But, what is Yoast SEO?
Launched originally as a WordPress plugin, Yoast SEO is an integral tool that empowers millions of websites worldwide to reach their full SEO potential.
Making your site's content easy to check improves optimization and helps reach more people. Yoast SEO provides a complete guide to help both newcomers and professionals get the best website ranking through helpful tips and steps.
Yoast SEO simplifies meeting top SEO standards, from keywords to XML sitemaps, making it easier for Google to index your site. The key to enhancing your site is by optimizing its content. Yoast SEO makes this process straightforward and foolproof. Use this guide to enjoy increased website visibility and better rankings today.
What Does Yoast SEO Do?
Some of the core functionalities encompassed by in this SEO tool are:
Generative AI: Yoast SEO Premium utilizes AI to generate fitting titles and meta descriptions for your website content, enhancing its appeal to audiences and search engines. This feature enables your content to stand out among search results, improving its visibility.

Optimizing Keyphrases: This tool assists in effectively optimizing your posts with respect to chosen keyphrases. It recognizes related keyphrases, synonyms, and various word forms, ensuring content is optimized in a more natural way, benefiting both audiences and search engines.

SEO Workouts: This feature guides through routine SEO tasks and aids in identifying optimization opportunities, such as hard-to-find, unlinked content on your website.

Internal Linking: Yoast SEO Premium simplifies setting up a coherent site structure that is well-understood by visitors and Google. It suggests internal linking improvements to enhance the overall user experience.

Redirect Manager: It helps avoid 404 errors by automatically creating and managing redirects when content is moved or deleted, preventing audience from stumbling upon dead links.

Structured Data: It automatically adds the right structured data to your site, helping Google understand your content better. This enhances your chances of achieving rich results.

Google and Social Previews: This feature enables you to visualize how your content will look when shared online, giving you the opportunity to optimize it further for better visual appeal in search results and on social media platforms.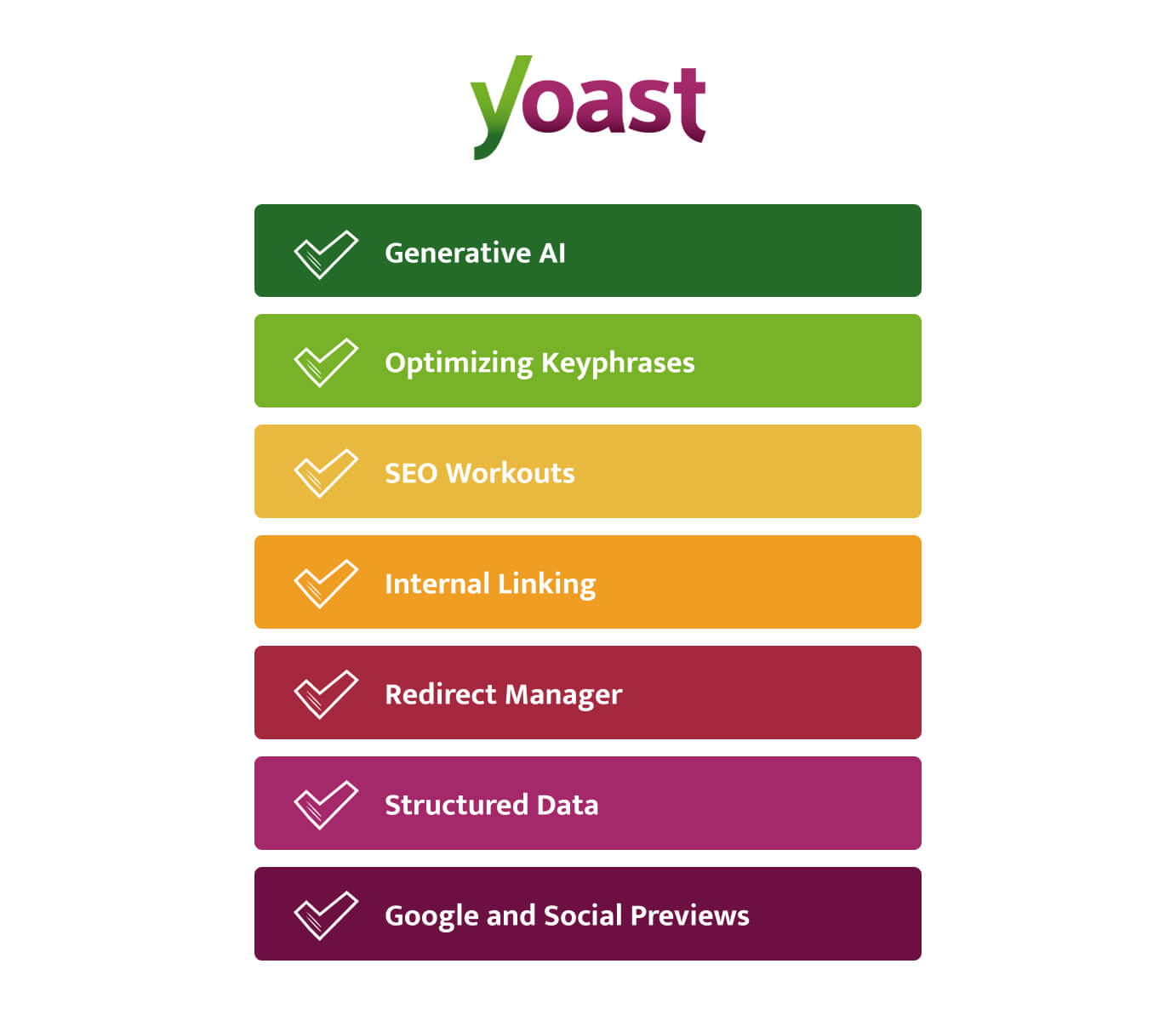 A Step-By-Step Guide
Step 1: Installation and Setup
Visit the 'Plugins' section of your WordPress website's dashboard, select 'Add New,' and search for 'Yoast SEO.' After the plugin appears, install and activate it by following the provided instructions.
The direct link you can find here -> https://wordpress.org/plugins/wordpress-seo/
Step 2: SEO Configuration
Once installed, Yoast SEO will guide you through the initial setup wizard, where you configure your website's basic SEO features.
Step 3: Content Optimization
Yoast SEO provides a meta box on the editing screen of your posts and pages. Here, you incorporate your main keywords and meta descriptions to enhance the SEO quality of your content.
Step 4: Performance Analysis
Yoast SEO generates an SEO analysis based on your content, guiding you on areas to improve for optimal SEO.
Step 5: Advanced SEO Features
Yoast SEO's premium version provides advanced features like internal linking suggestions, social previews, redirects manager, and more, for more advanced control over your site's SEO.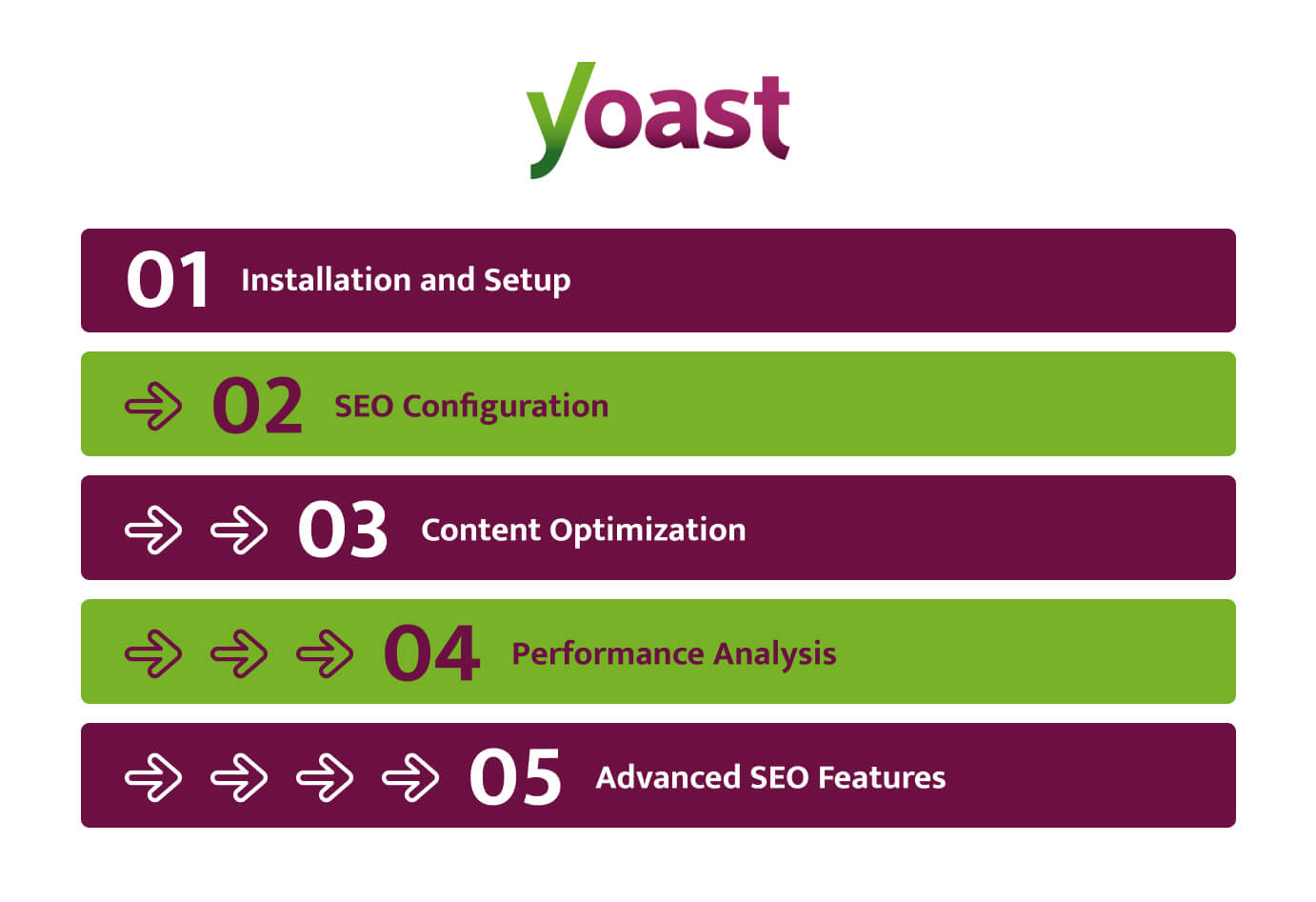 Yoast SEO pricing
Yoast SEO offers a range of SEO tools with different pricing options.
The Yoast SEO Free plugin is the most used SEO tool in the world with over 13 million users. It provides basic SEO functionalities to get your site ranking in search engines. It automatically takes care of your site's technical SEO and gives you access to 5 free academy courses. As the name suggests, this plugin is free to download and use.
The Yoast SEO Premium plugin steps up a notch by offering advanced features and functionalities before everyone else gets them. It allows you to optimize your site for the correct keywords for your users, avoid dead links on your site, and offers previews for sharing on social media. It also provides content quality and link suggestions as you write your posts. Plus, it includes full access to the Yoast SEO Academy. The cost for Yoast SEO premium is €99 EUR/year excluding VAT.
The Yoast Plugin subscription encompasses 5 powerful Yoast plugins, including all online SEO training courses. With this subscription, you'll also receive a full year of updates and 24/7 support. The substantial benefit of this bundle is the cost-saving aspect. The plugin subscription is €229 EUR/year, excluding VAT and can be billed monthly or annually depending on your preference.
Why you should try Yoast SEO alternatives
Yoast SEO is a well-known SEO tool for WordPress, helping enhance your website. But, many other beneficial alternatives like Squirrly SEO and Seodity are also available.
Squirrly SEO
Squirrly SEO is an excellent alternative to Yoast SEO. This plugin is also designed for WordPress and is particularly beneficial for individuals who are not SEO experts. It provides a user-friendly, interactive SEO assistant that guides you through the process of optimizing your content for search engines.
Some of the key features include SEO Live Assistant, Keyword Research Tool, SEO Strategy Assistant, Schema Markup, and Google SERP Checker. Squirrly SEO also helps with optimization for social media sharing, using Open Graph and Twitter Card. It can even generate XML sitemaps and assist with Google Analytics integration.
So, if you're looking for an easy to use, comprehensive SEO suite for your WordPress site, Squirrly SEO might be a perfect fit.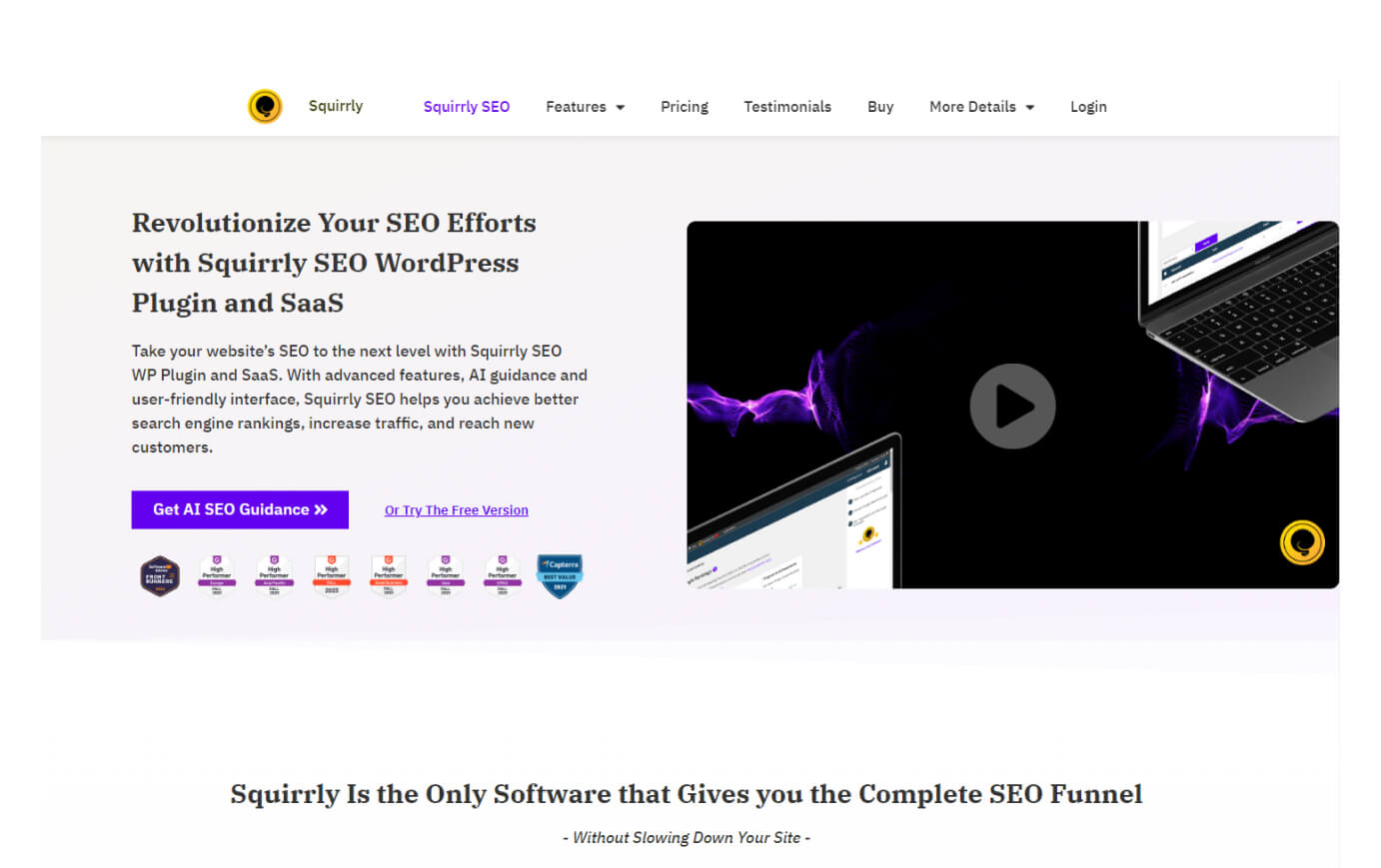 Seodity
On the other hand, Seodity is a versatile and robust SEO platform that is not constrained to WordPress websites. It lends itself splendidly to any type of website, including e-commerce. It's an incredibly opportune platform if you're aiming to swiftly increase your organic traffic.
Some of the distinguished features of Seodity encompass competitive analysis, keyword usage investigation, website rank tracking, and SEO automation. These facets can help improve your website's SEO performance substantially, highlight your competitors' strategies, and ensure your site stays ahead in search rankings.
Seodity also provides in-depth analysis and suggestions for improving your website's loading speed, usability, and customer experience. With its 7-day free trial, you can explore its features without any investment.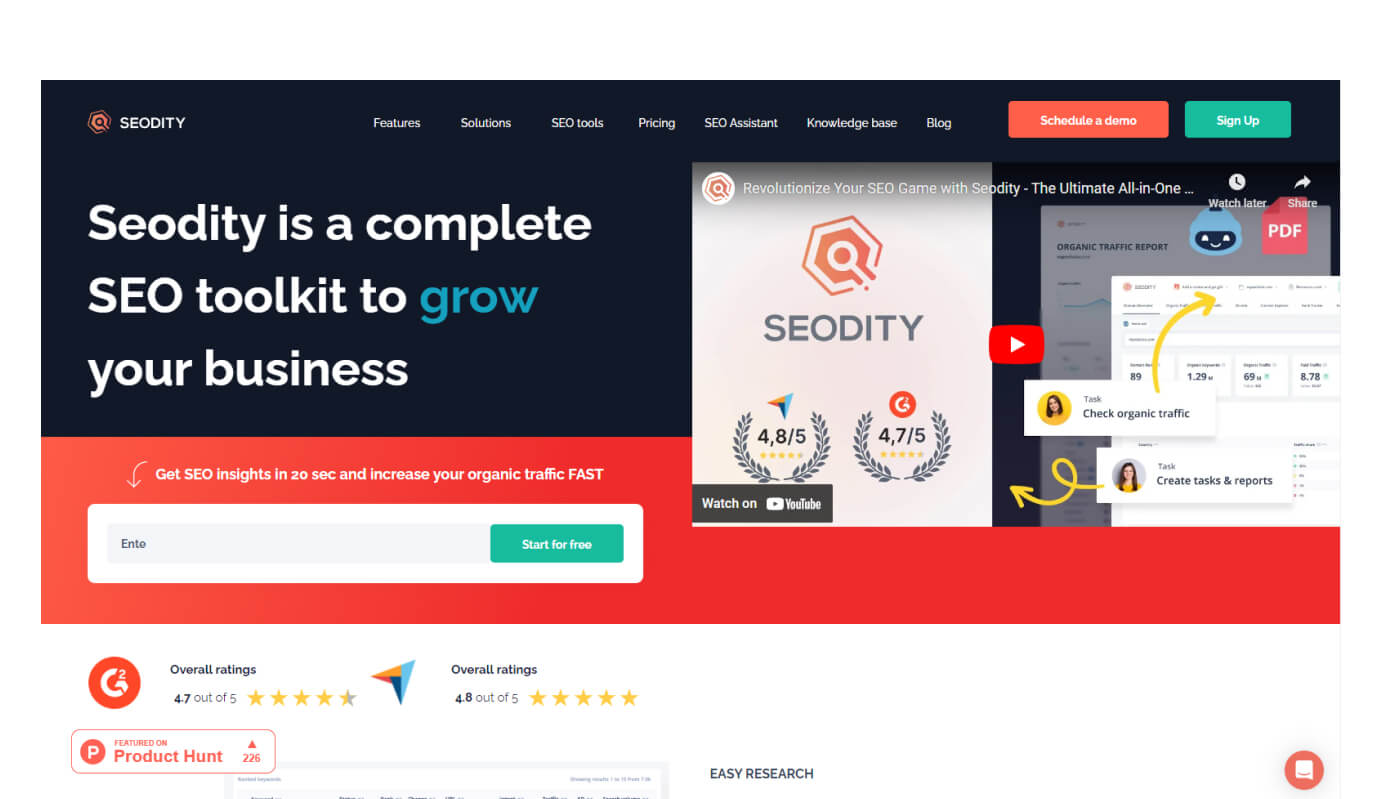 FAQ
Is the Yoast SEO Plugin Free?
Yes, Yoast SEO does offer a free version that provides fundamental SEO tools ideal for the beginner blogger or small business owner. This version includes features such as defined SEO keywords, readability checks, and indexable optimization to improve your website's visibility.
However, for a more robust experience, Yoast SEO Premium is available at €99 per year, excluding VAT. It grants access to advanced features such as social previews, internal linking suggestions, and content insights. 
Absolutely! Yoast SEO is a fantastic tool for improving the SEO of your WordPress site. It's comprehensive and user-friendly, providing accurate information on every aspect of SEO, from keyword optimization to internal linking strategies. 
How to Add Keywords in SEO Yoast
Yoast SEO allows you to optimize your WordPress website content with targeted keywords, enhancing your site's online visibility and driving organic traffic.
To begin, navigate to your post's editing screen where Yoast SEO provides a meta-box. In this box, you will find a field named 'Focus Keyphrase', where you can insert your desired keyword.
Yoast SEO will then analyze your content based on this keyword, providing valuable insights and tips for improvement. Implement these suggested changes to amplify your content's SEO effectiveness, ultimately boosting your website ranking for the chosen keyword.
How to Update Yoast SEO Plugin
Ensuring your plugins remain up-to-date is crucial for efficient site performance and enhanced security. When it comes to updating your Yoast SEO plugin, the process is simple and straightforward.
Start by logging into your WordPress dashboard. Navigate to the 'Plugins' section and search for 'Yoast SEO' in your installed plugins list. Any available updates will show an 'update now' link under Yoast SEO.
Click on this link, your WordPress will download and install the update automatically. Refresh the page, and your Yoast SEO plugin will be updated to the latest version.
Always remember to backup your website data before installing updates, to safeguard your content against any unforeseen issues.