This article is part of our beginner's series on SEO. If you missed the first part, you can read "Getting Started with SEO: A Beginner's Guide" here.
Introduction
What are backlinks? They are merely links from other websites to your website. They're crucial because the more backlinks you have, the more traffic you'll receive.
However, it's not about obtaining backlinks from just any website - their quality is significant. In this article, we will concentrate on identifying websites that would be advantageous for backlinking, how to recognize spammy backlinks and deal with them, and how to monitor your backlink history.
Seodity Backlinks Module
The Seodity Backlinks module is extremely beneficial for identifying your backlinks momentum. It enables you to effortlessly determine the quantity of backlinks you possess, along with any new and lost ones from previous months.
You can also view all the backlinks, anchors, and referring domains for your website, as well as those of your competitors.
How to Find High-Quality Websites for Backlinks?
The most crucial indicator of a high-quality website is its Domain Rank (DR) and Page Rank (PR) value. The higher these values, the better the backlinks you can procure from that website. But how can you discover these websites? One efficient strategy is to leverage our competitors!
To do that:
Navigate to the Backlinks module and select the competitors whose backlinks you wish to analyze in the "Competitors" field. After some time, the competitor data will be displayed.

Choose the "Good Backlinks" preset in the "Presets" field. This is a default preset created by Seodity, which will display backlinks with high Page Rank and a low Spam Score.

After a while, you should see a list of good backlinks that your competitor has.
Currently, you need to review them to identify websites where there's a potential to obtain a backlink for your website. Some methods for acquiring backlinks include guest blogging, advertising, collaborations, or locating broken backlinks they might be interested in replacing with yours.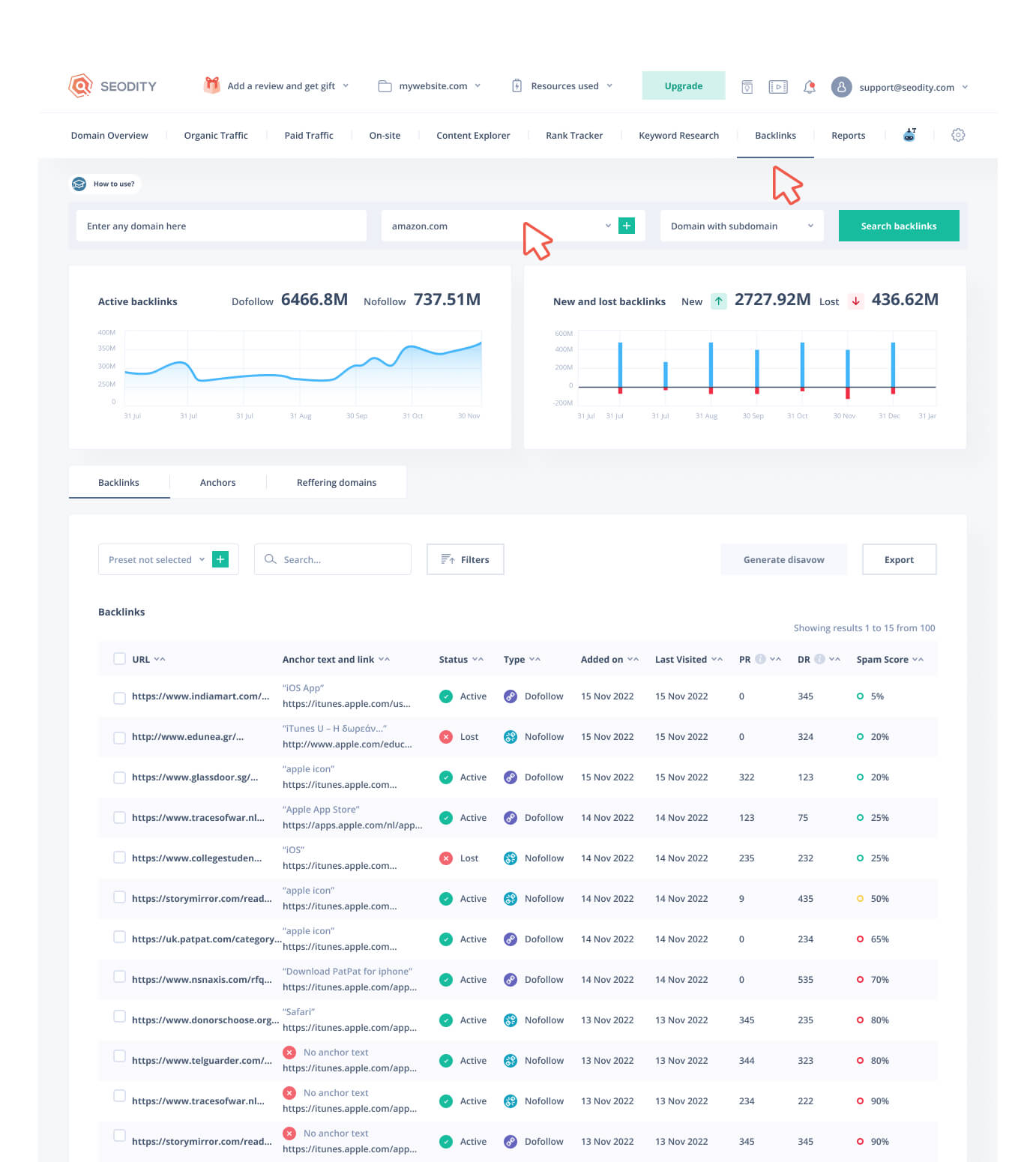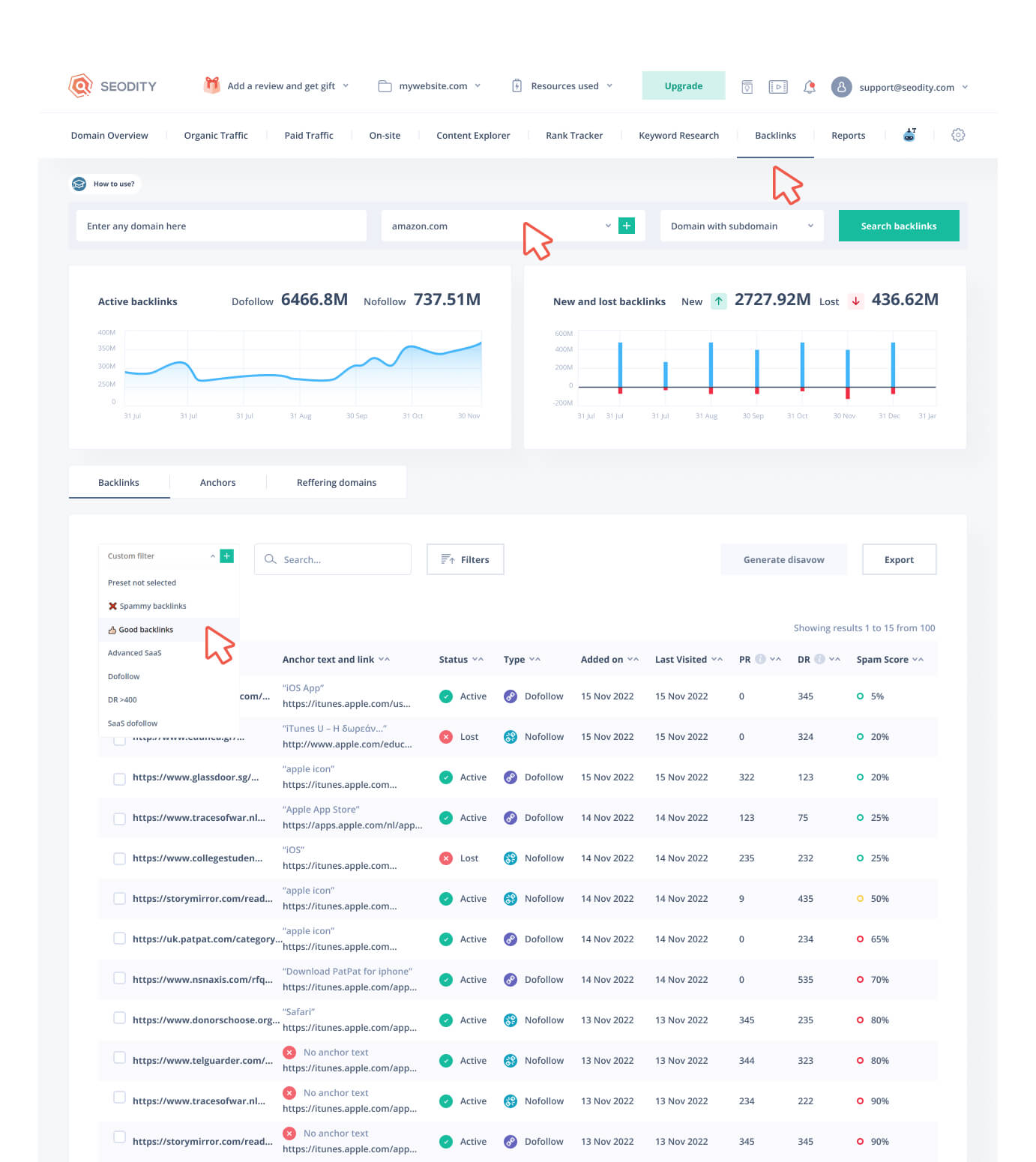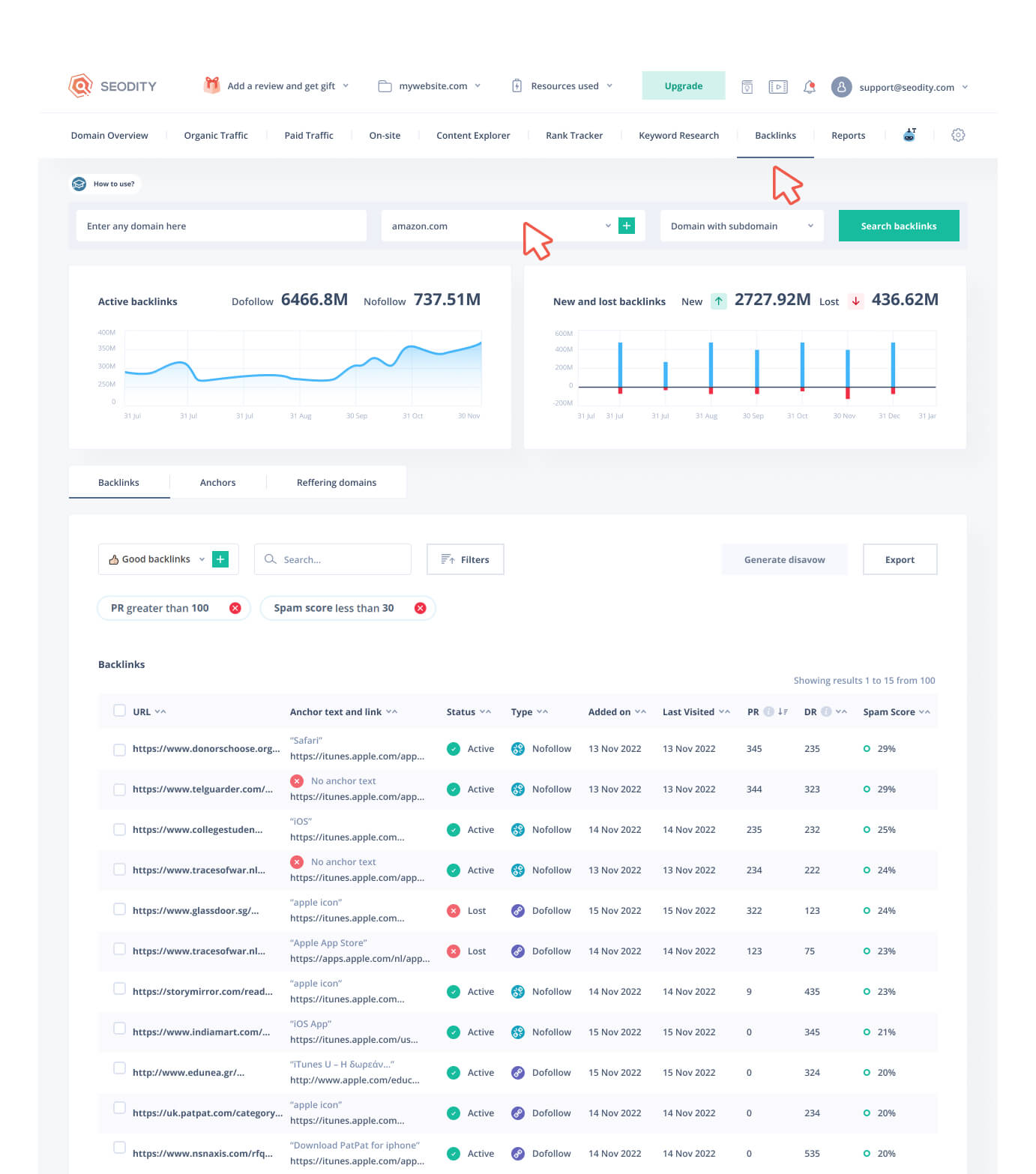 How to Find Spammy Backlinks and How To Make Google Ignore Them?
With Seodity it's really easy! To find them:
Go to the backlinks module.

Select the "Spammy Backlinks" preset in the "Preset" field. It will filter all backlinks with a Spam Score higher than 60%.

Click the "Select All" checkbox to select all backlinks, then click "Generate Disavow". Your disavow file, containing all the spammy backlinks, will be generated.
Now you need to upload this file to Google Search Console. You can find on how to do this here.
That's it! Spammy backlinks to your website you've chosen will be ignored by Google from now on.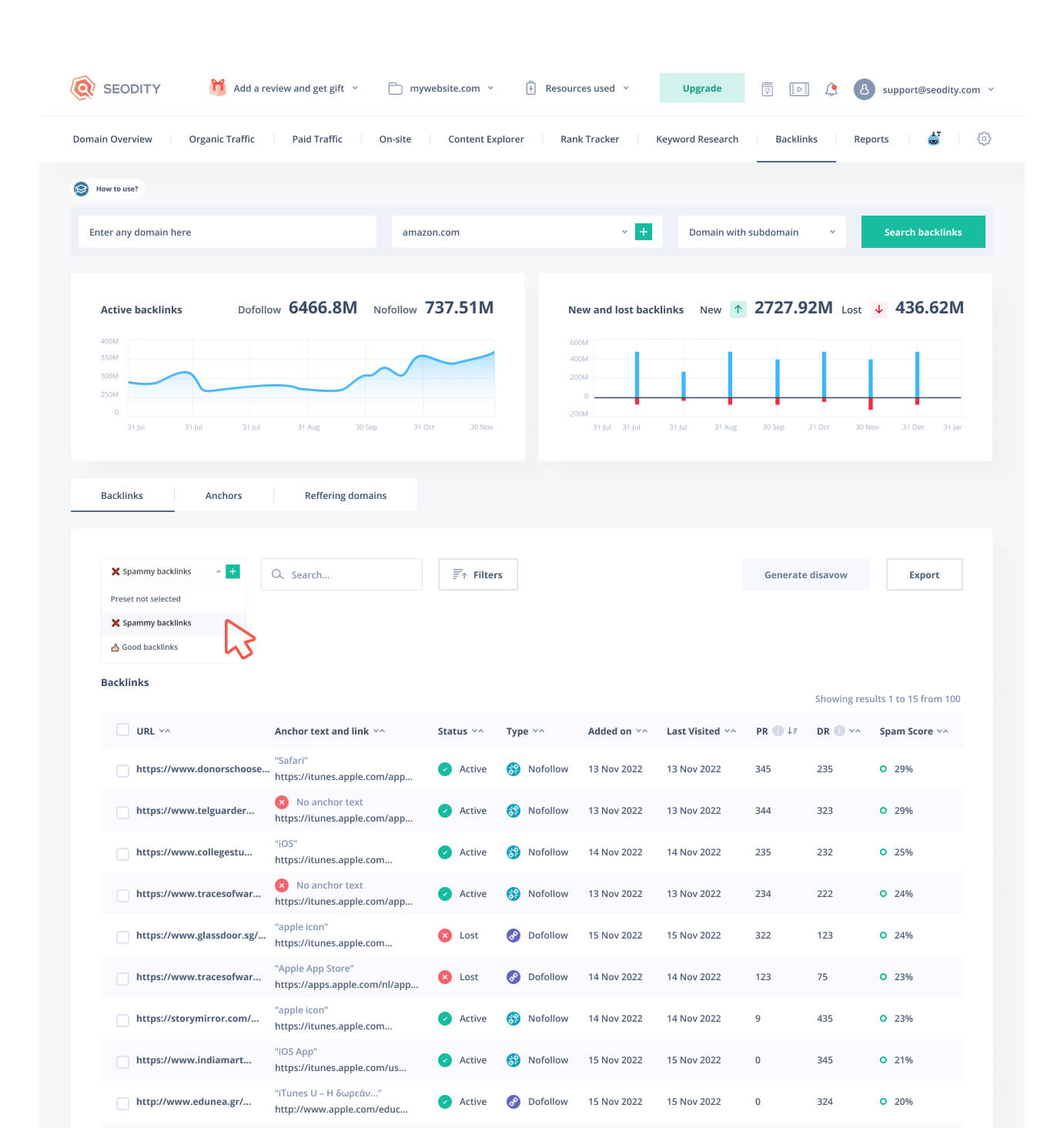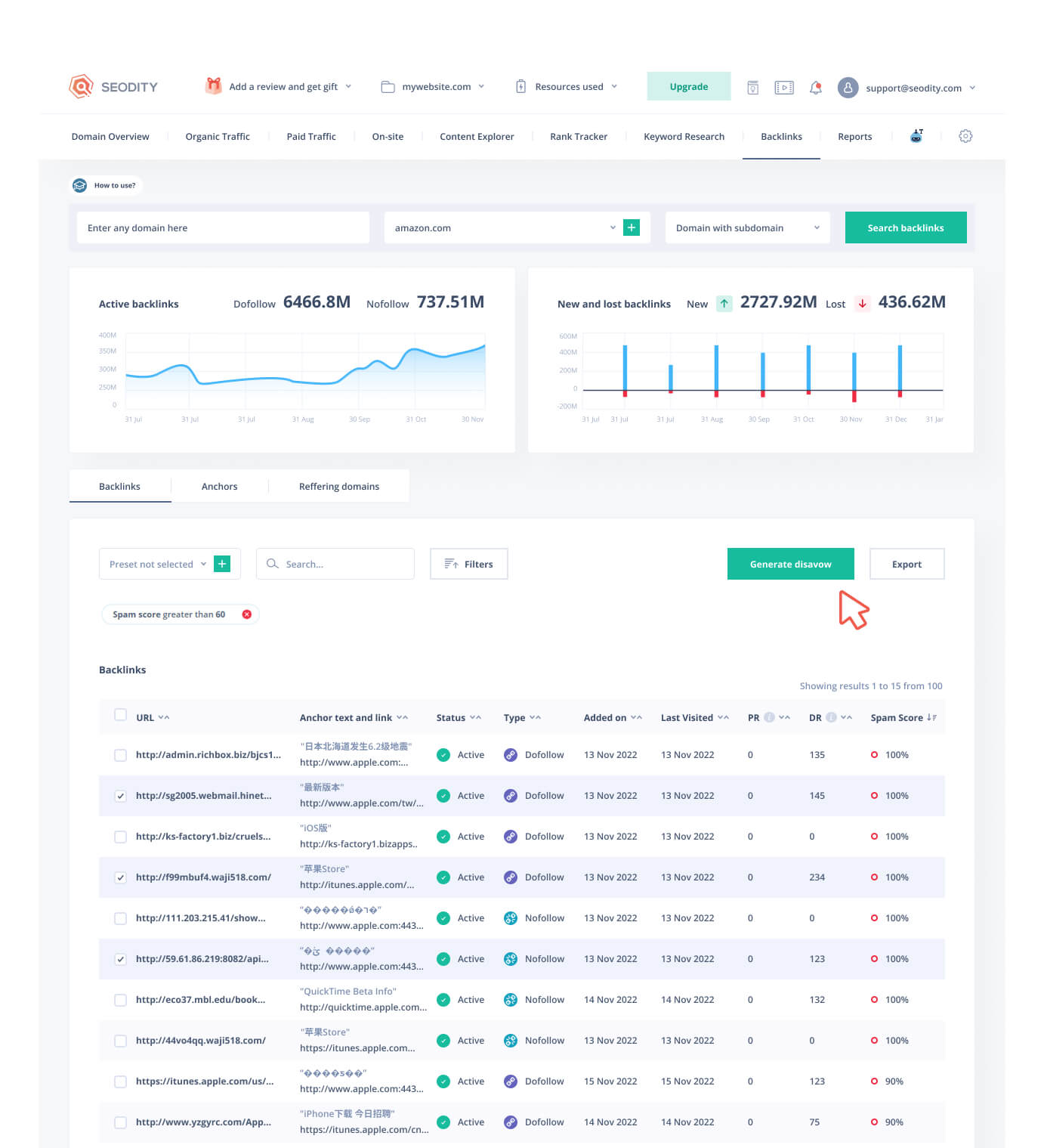 Conclusion
Backlinks matter a lot in SEO as they can drive more traffic to your site and improve its ranking. Good backlinks from well-known sites can greatly improve your search engine position.
You can use tools like Seodity Backlinks to find good backlink opportunities and avoid bad ones. Regularly checking your backlink profile and adjusting your tactics is key to keep growing. It's better to have a few top-quality backlinks rather than a lot of low-quality ones, so try to get links from respected sources in your field.
In our next article, we'll dive into the next steps you should take in your SEO journey. Read it here.