Have you ever heard of Diaclone? The Japanese toys from the early 1980s?
Probably not.
But the idea was revolutionary! They were toy robots that can turn into vehicles. Or vehicles that can turn into robots. Depending on your point of view.
It does sound familiar now, right? Duh! Transformers!
But you wouldn't hear about the toys if it weren't for the animated TV show created to market them in the US.
Transformers are a great example of content marketing. Instead of fitting your products into an existing story, you create your own content from scratch! This way you own it, control it, and you can promote products without any limits.
Content marketing example from the 80s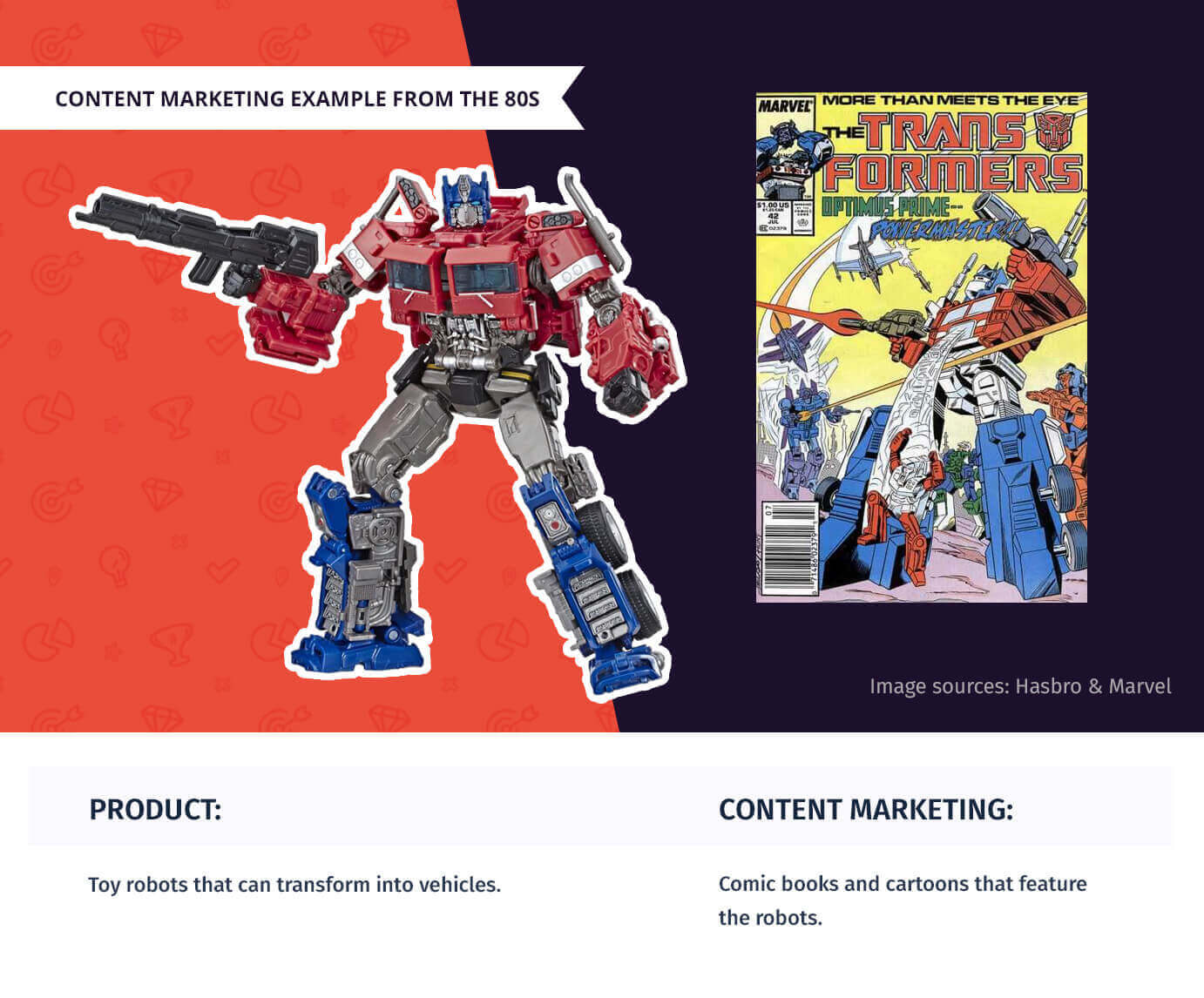 In this guide you'll find everything you need to know about content marketing:
Its history and modern definition

What types of digital content marketing are most effective

How to do content marketing online with the help of SEO
Content marketing has become one of the dominant customer acquisition channels. And you don't need to hire a team of writers to do it right.
If you want to try it first hand, you can test our content marketing solutions right now.
But let's start from square one.
Content marketing definition
According to a definition provided by the Content Marketing Institute, content marketing:
… is a strategic marketing approach focused on creating and distributing valuable, relevant, and consistent content to attract and retain a clearly defined audience—and, ultimately, to drive profitable customer action.
In simple words—if you are selling diving equipment, you create a website about diving. If you are selling toy cars that turn into robots, you create a cartoon.
Usually, content marketing means writing guides and blog posts to attract visitors.
How is content marketing different from product placement?
In point of fact, the ideas behind both practices are more similar than most marketers think. With product placement you try to fit your product into content. With content marketing, you create content around the product.
Content marketing focuses on creation and distribution of high-quality resources to attract customers. It is a multi-channel approach that uses text, visuals, and media. In the context of digital marketing, it frequently involves search engine optimization. Content marketing is one of the best online marketing techniques.
In certain situations, content marketing means inbound marketing. Both terms are to some degree interchangeable. The two methodologies differ only in details concerning their scope and terminology.
The inbound marketing framework has been invented by one of the co-creators of HubSpot. But for all intents and purposes, they are the same thing. With slightly different priorities. Still, there is no inbound marketing without content marketing.
So, how are content marketers different from inbound marketing professionals?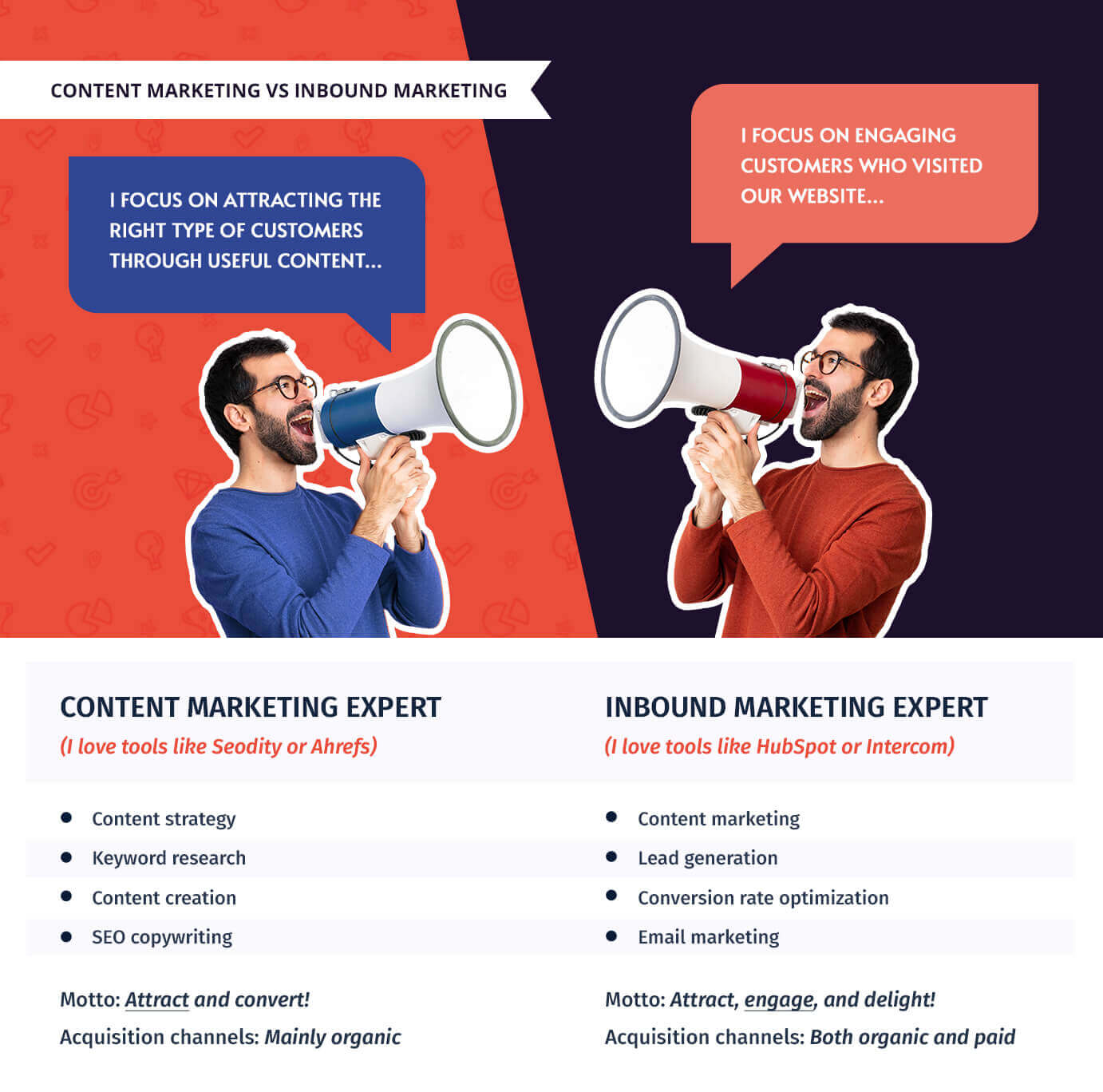 History and importance of content marketing
The term "content marketing" was coined in the 1990s by John F. Oppedahl, a journalist. However, brands had been creating books and guides just to advertise their products long before that.
Michelin published the first guide for automobile and bike owners in 1900. They have been doing it ever since with great success. And they make sure that their products keep being worn out too! That's a really cool content marketing strategy.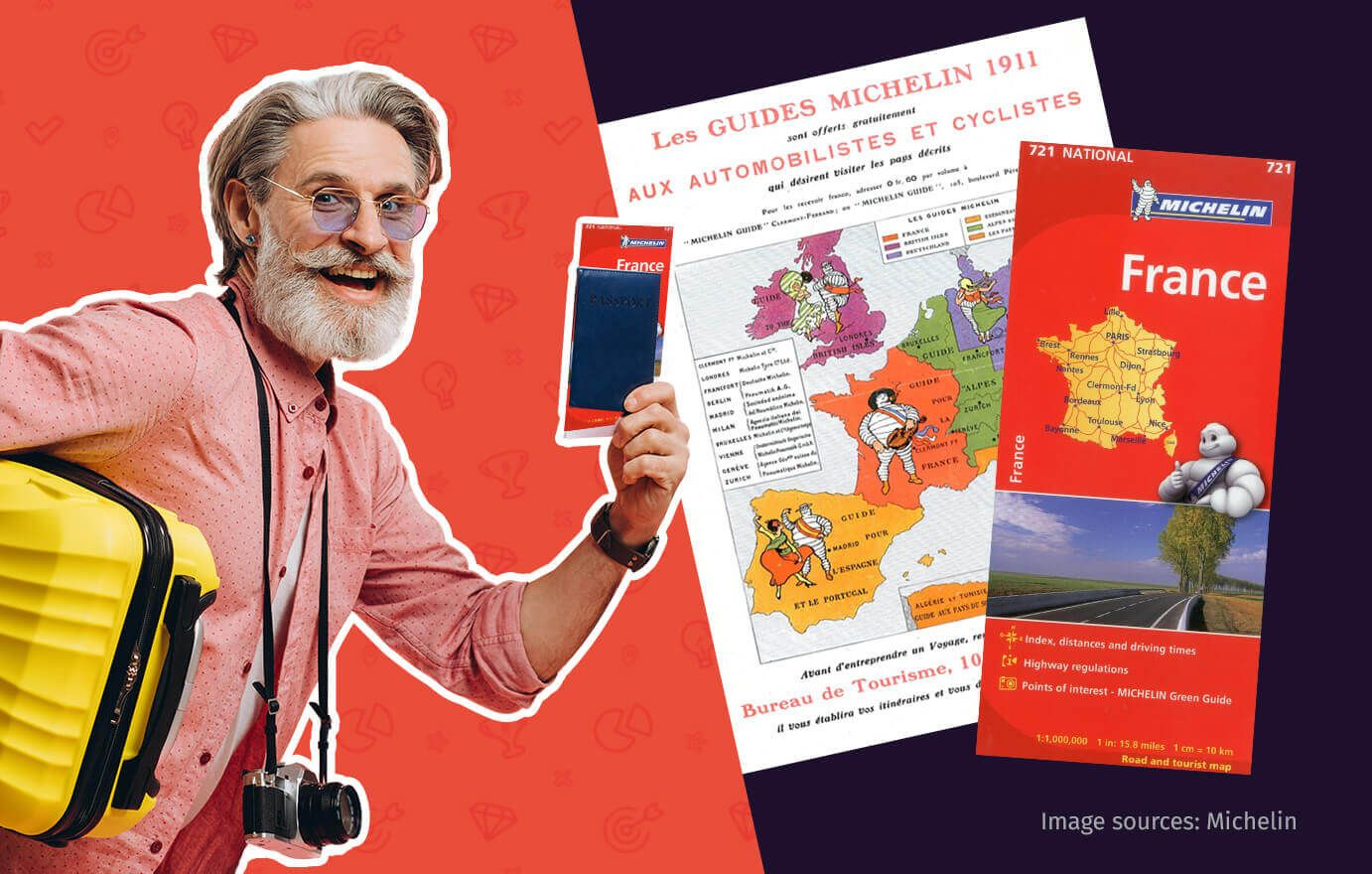 If you would like to learn more about the history of content-based marketing, you can find out more examples here.
But content marketing became even more important in the age of the internet.
In his famous essay Content is King, Bill Gates stated:
Content is where I expect much of the real money will be made on the Internet, just as it was in broadcasting.
Bill Gates, Co-founder and former CEO of Microsoft
And—
The man was right.
The revenue generated by content marketing in 2021 has reached over $50 billion. And it grows at a rate of about 14% every year.
Today, the most popular types of content marketing are:
Blog posts (how-to guides, top 10 lists)

Images (infographics, Instagram photos, Pinterest illustrations)

Videos (YouTube vlogs, tutorials)

Documents (downloadable PDF whitepapers, ebooks, comics, and magazines)

Audio (Spotify podcasts, audiobooks)

Interactive (video games, augmented reality apps)
Businesses have fallen in love with it. And do you know why content marketing works for them?
Every dollar put into content creation brings back almost $8 in sales revenue.
With an ROI of 748%, content marketing has one of the highest profit ratios. Companies that invest in content marketing break even after 9 months (on average). Once you are past developing your content strategy and processes, it is clear sailing from there on out.
So—
How much should you be spending on content marketing?
Many online businesses spend between 25%-30% of their whole marketing budget on content. An increasing number of companies are following in their footsteps. With the high return on investment, marketers allocate more funds for content creation.
But, apart from money, what makes it so attractive?
What are the advantages of content marketing?
Online content marketing is the driving force behind many amazing companies. For example, this article about writing a resume gets more than 100,000 visits every month.
And guess what the company sells—an app for making resumes.
There are countless benefits of content-based marketing but there are also some things you should watch out for.
Pros of digital content marketing:
More effective than other techniques

It is easy to reach your perfect audience

Less imposing than traditional advertising

It builds strong customer relationships

Your whole business can be based on a single piece of successful content
Cons of digital content marketing:
It may take several months to break even before earning profits

You need a well-thought-out content marketing strategy

Almost nobody visits the second page of Google results—the winners take it all
If you want to conquer the world with your blog posts or videos, here is the golden rule:
Some content will go viral, generating tons of hot traffic to your blog, while other content will be lost in the archives. If you want more of the first kind, you've got to put your readers first.
Neil Patel, Digital Marketing Superstar
Content marketing examples
Creating great content seems like a difficult and complicated process. But you should always try to work smart, not hard.
For example, Nationwide is an insurance company that offers insurance, retirement and investing products. And they use their website to attract new customers.
Let's say that I bought an expensive, purebred cat. I'm trying to come up with a good name for her. So I google "female cat names." And here are the results: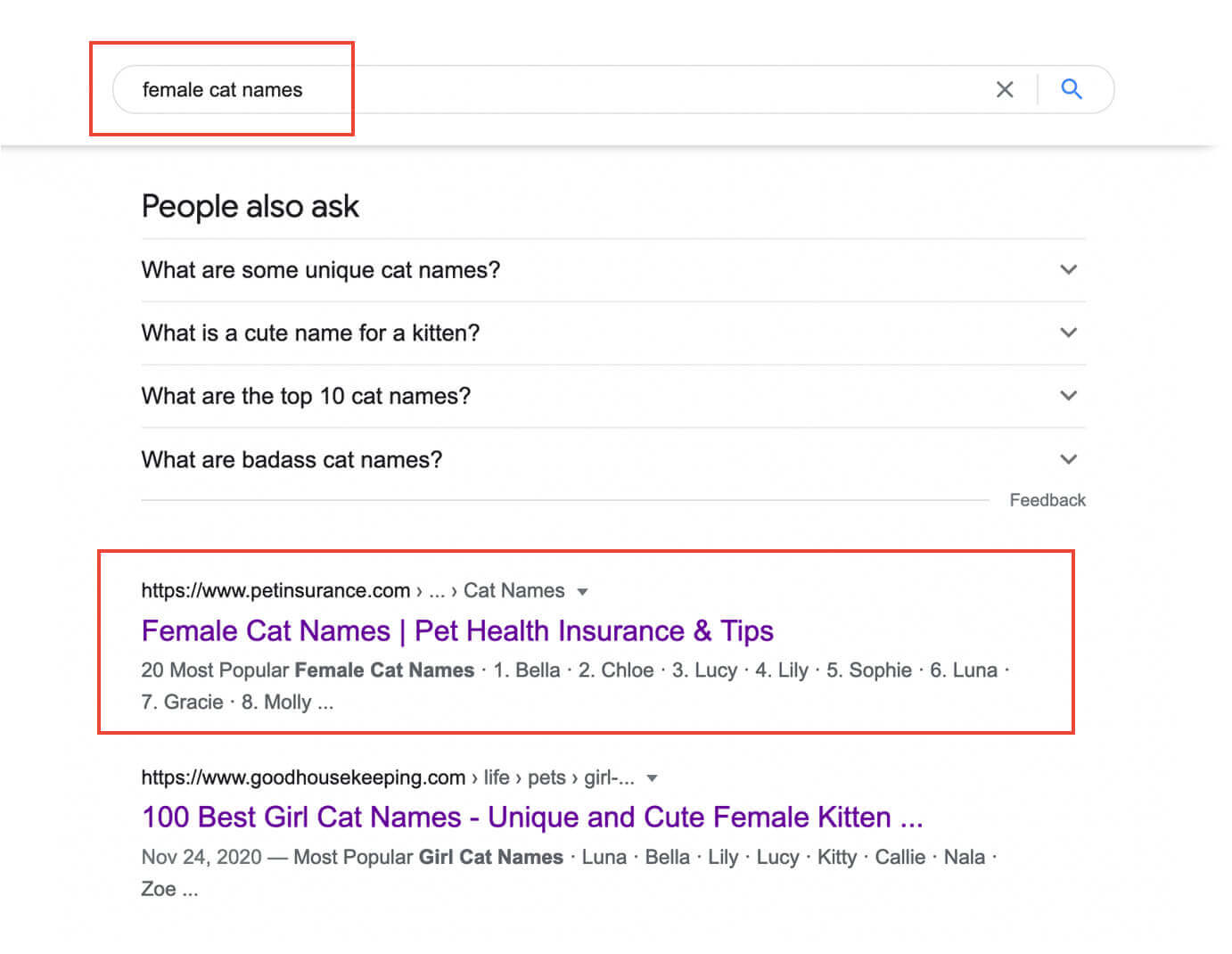 Pet Insurance is a line of insurance products for pets provided by Nationwide. And their guide to popular cat names is one of the highest-ranking pieces of content in Google.
The "guide" itself is really short. But they manage to squeeze in a link to their product.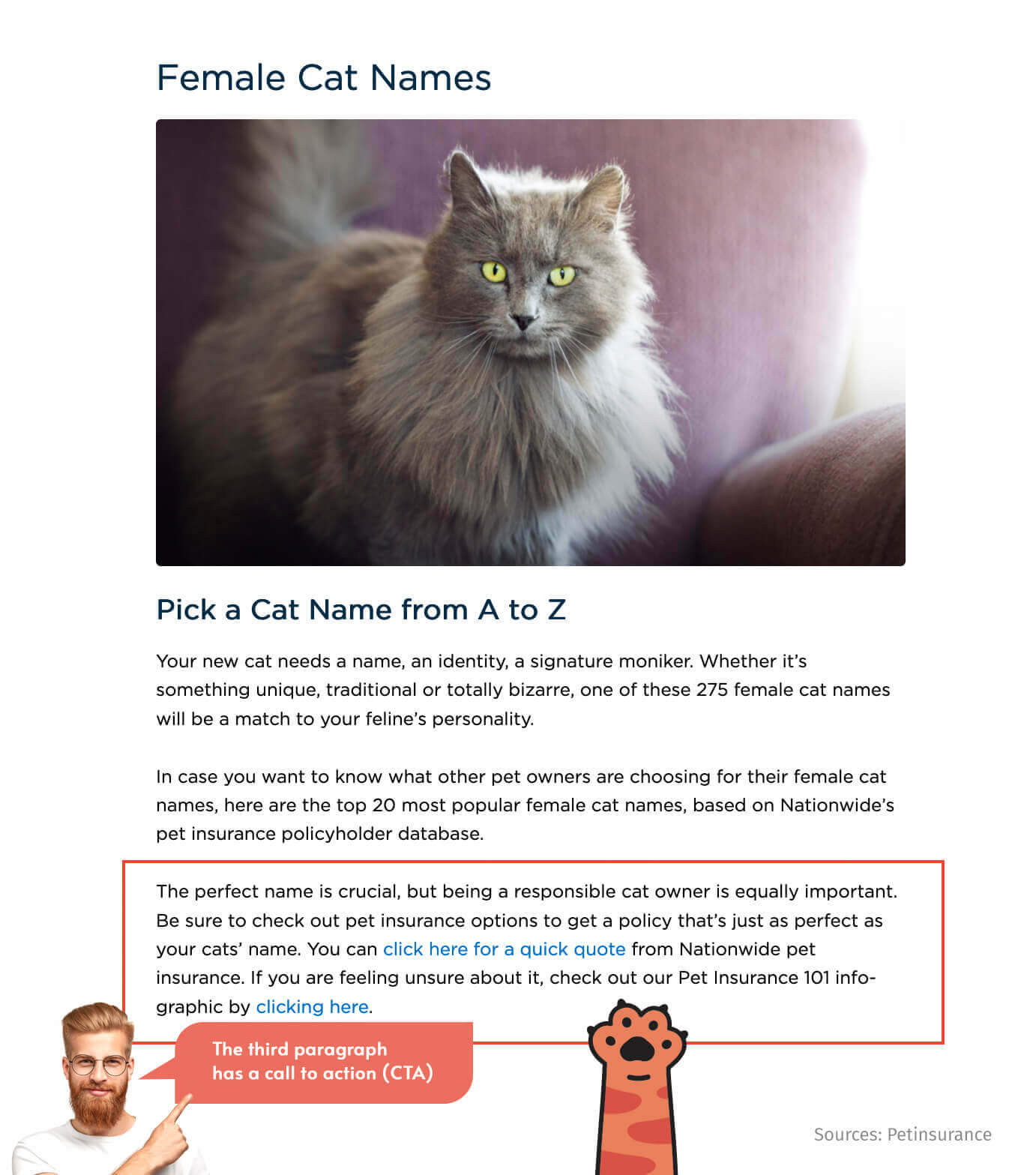 Nationwide's article about cat names is an excellent example of content marketing. And picking low-hanging fruit first! It is quite easy to compile a list of 20 names and write three paragraphs of introduction.
But how to come up with ideas like this one?
You can use content marketing software, like Seodity.
Type in a general topic, like cats.

And you'll get content topic suggestions with their popularity and estimated traffic.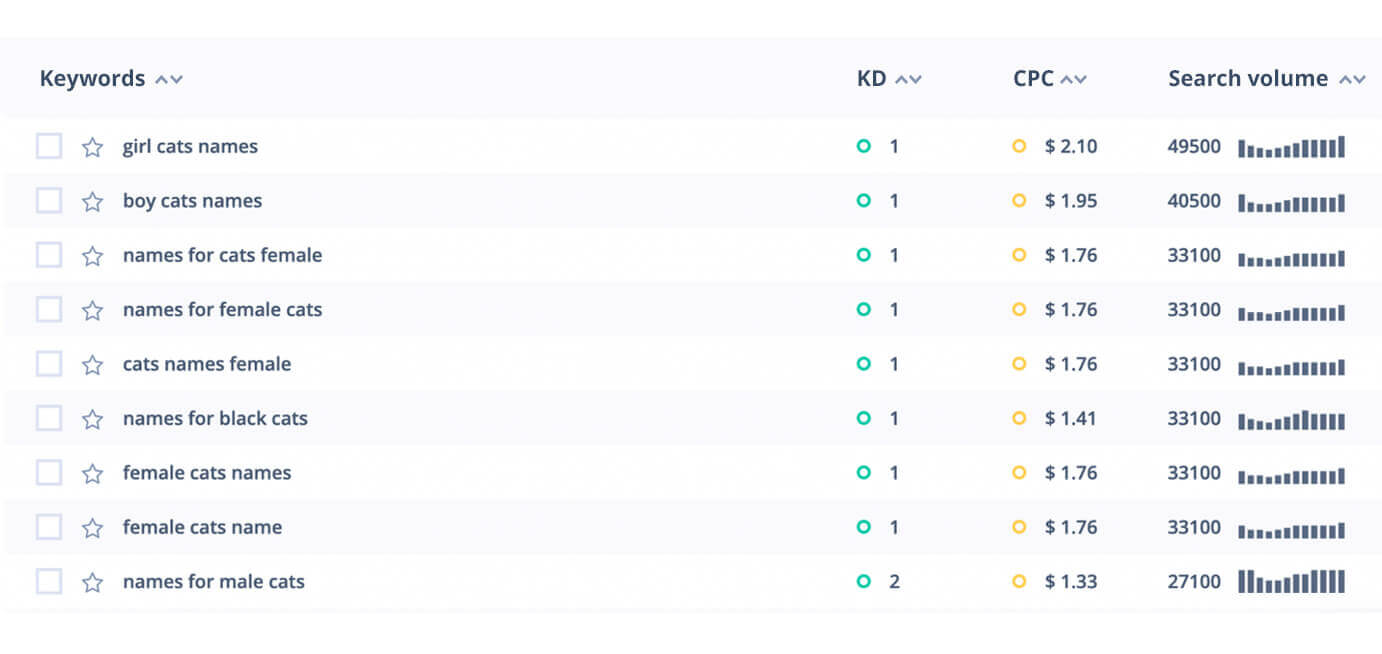 There are tens of thousands of people searching for cat name ideas every month. And it is very easy to get a slice of that cake.
But, surely, we can't predict how popular something will become if people are not actively looking for it, right? Nobody types in their search engine "can I put my iPhone into a blender." And yet, apparently, millions of people were very interested in the matter.
Well, the basic types of content are:
Content that customers find useful (evergreen content like how-to guides, tutorials, rankings, lists)
Content that customers find exciting (news, trendy topics, gossip)
Content that customers find oddly satisfying (viral videos, curiosities)
The first type is the most predictable. With content marketing based on keyword research, you can plan everything ahead. All you need to do is identify the right topics and calculate their combined traffic volumes.
The majority of companies believe that they should focus on improving their organic rankings. SEO-optimized content is considered far more effective than social media or paid advertising.
However, there are some examples of content marketing campaigns that were more random. The famous Will It Blend campaign from Blendtec is obviously the third type.
Content marketing is marketing "in disguise"
Content-based marketing has three huge advantages over traditional advertising. First of all, it always reaches the right audience. Secondly, the product and the content blend seamlessly. Last but not least, it can be evergreen. Once you set things in motion, a video or a great blog article can become your golden goose.
OK—
So, how does content marketing work?
In traditional advertising, you place an ad and hope the best. A small fraction of the advertisement's audience will match your buyer persona. With some luck you may close several sales. But no one really likes ads, banners, and commercial breaks.
Content marketing, on the other hand, creates frictionless customer experiences. For example, have you noticed that you are being exposed to content marketing right now?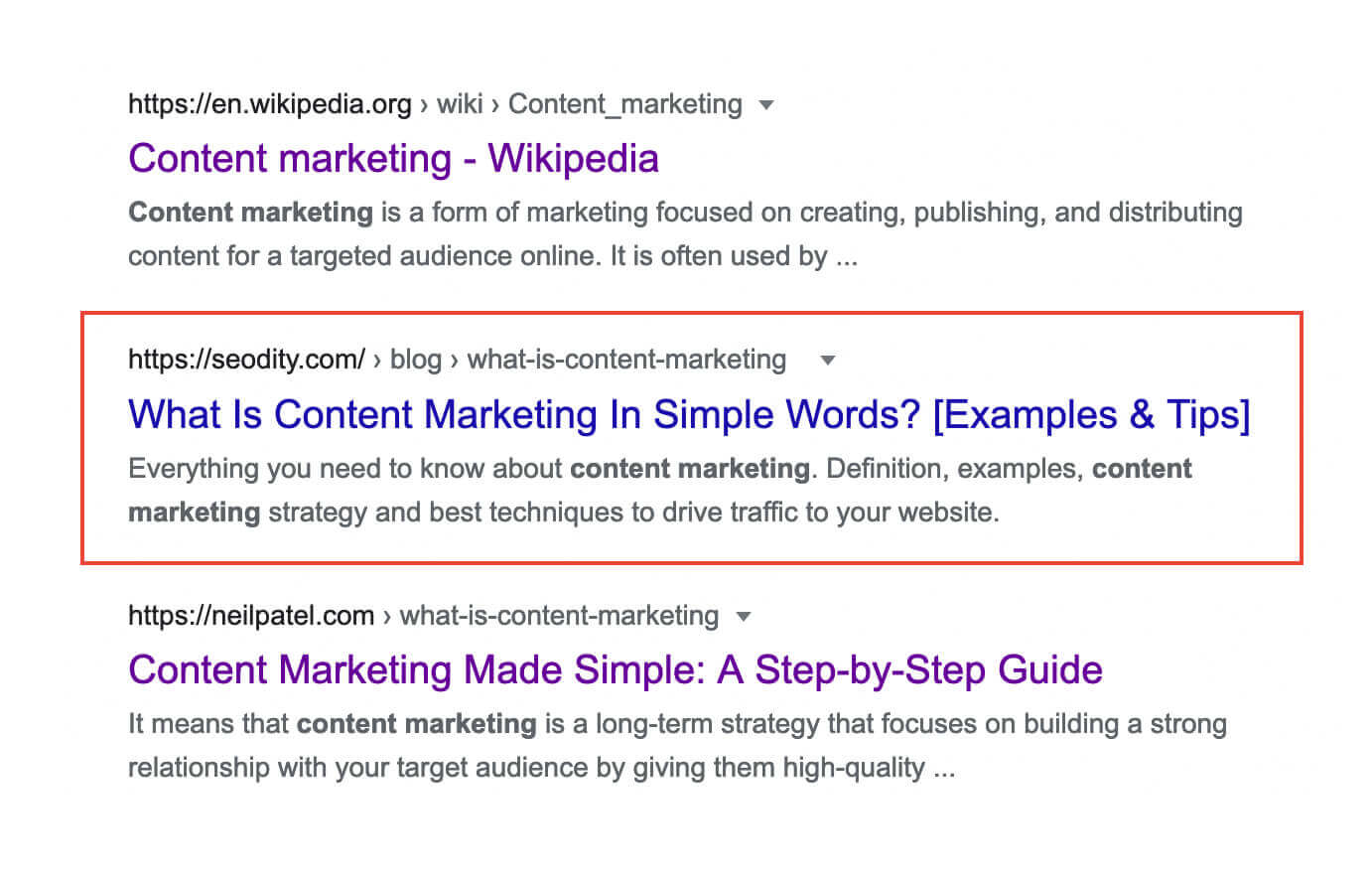 Well, you are.
Step 1: You typed in what is content marketing in Google.
Step 2: This article popped up among other search results.
Step 3: Now, you are reading our content marketing guide.
And, in a moment, we'll show you how to use some cool tools for content marketing research.
You see? You were curious about content marketing. This means that you are our potential customer. And you visited this article of your own free will. We didn't have to show a single ad to get you here.
Now, you see how content marketing works.
The majority of visitors will just check out the definition. Maybe they will read some random fragments. But some of them will want to know how to do content marketing. They will start exploring our keyword generator tool and other content analysis features.
We know that 15,000 people type in "content marketing" in their search engines every month in the US alone. Between 3%-5% of the readers of this article will become our clients. THIS is content marketing.
How do you do content marketing
Professional web content marketing requires the use of dedicated software. You should use keyword planning tools to prepare a list of the articles or videos that you want to create. Then you can estimate their potential reach and expected sales.
Carry out a competitive content analysis

Prepare your content strategy

Use SEO copywriting techniques

Monitor your results
This formula has been successfully implemented by many businesses in all industries. Both B2C and B2B companies find it working like a charm. About 80% of businesses report that content marketing has increased their audience engagement. And they can show their metrics to prove it!
Carry out a competitive content analysis
You can create content about anything. But at some point you should ask if your customers find it interesting. If you write a blog post about the best fishing lures, how many readers can you expect? 50? 100? 1,000?
Let's find out. With seo analysis software it's as easy as shooting fish in a barrel.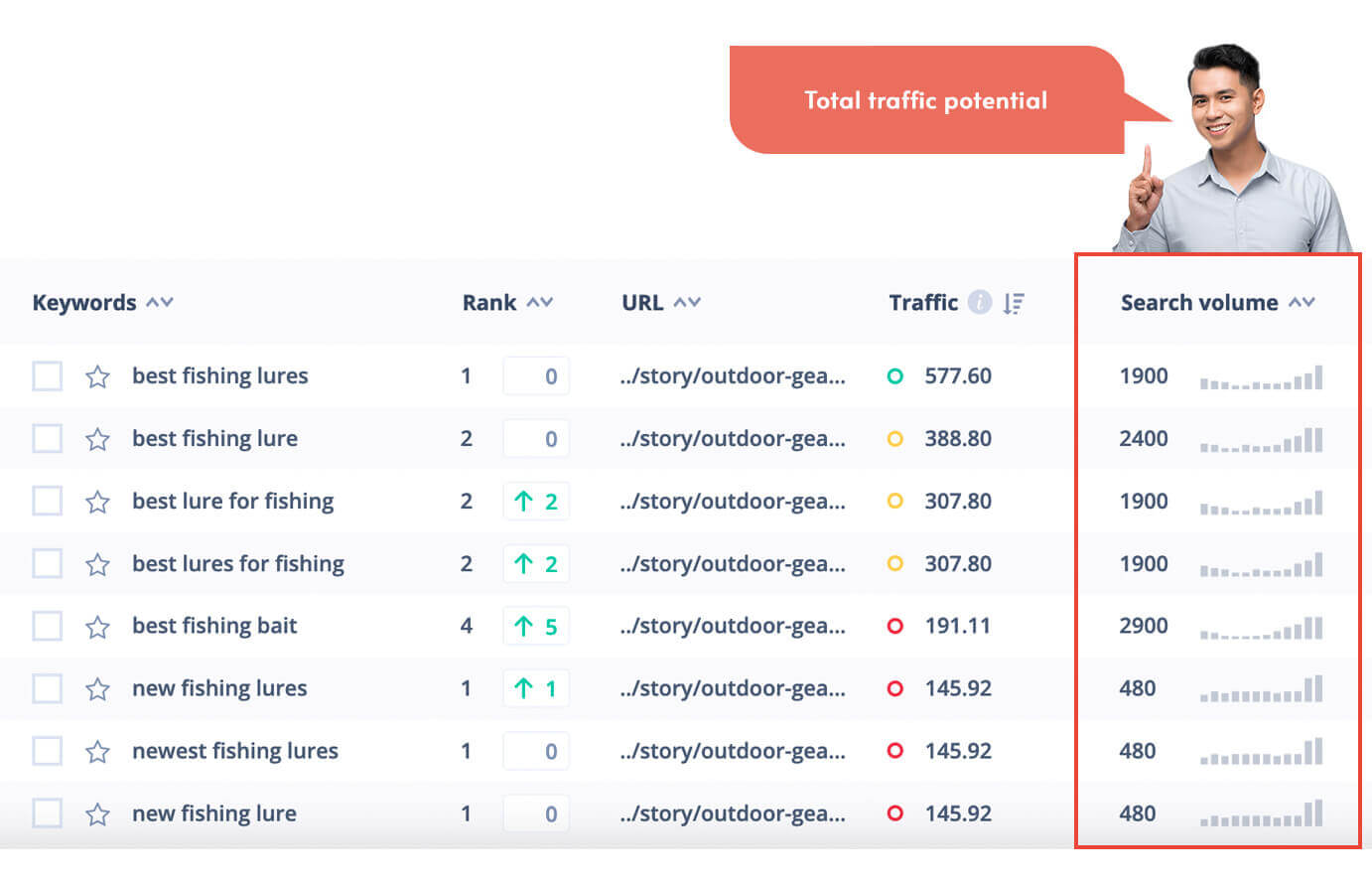 There are several variants of the keyword, "best fishing lure" being the most popular. The overall monthly search volumes in the US are above 10,000. But the combined numbers can be slightly misleading. After all, there are many top ranking articles competing between each other.
For example, this article ranks for both "best" and "new" fishing lures. Its actual traffic is closer to 2,000 visits.
You can inspect individual keywords or pages. But you can also run an automatic competitor analysis. Just create a new project, add your competitors and you'll be able to generate article topics ideas in minutes.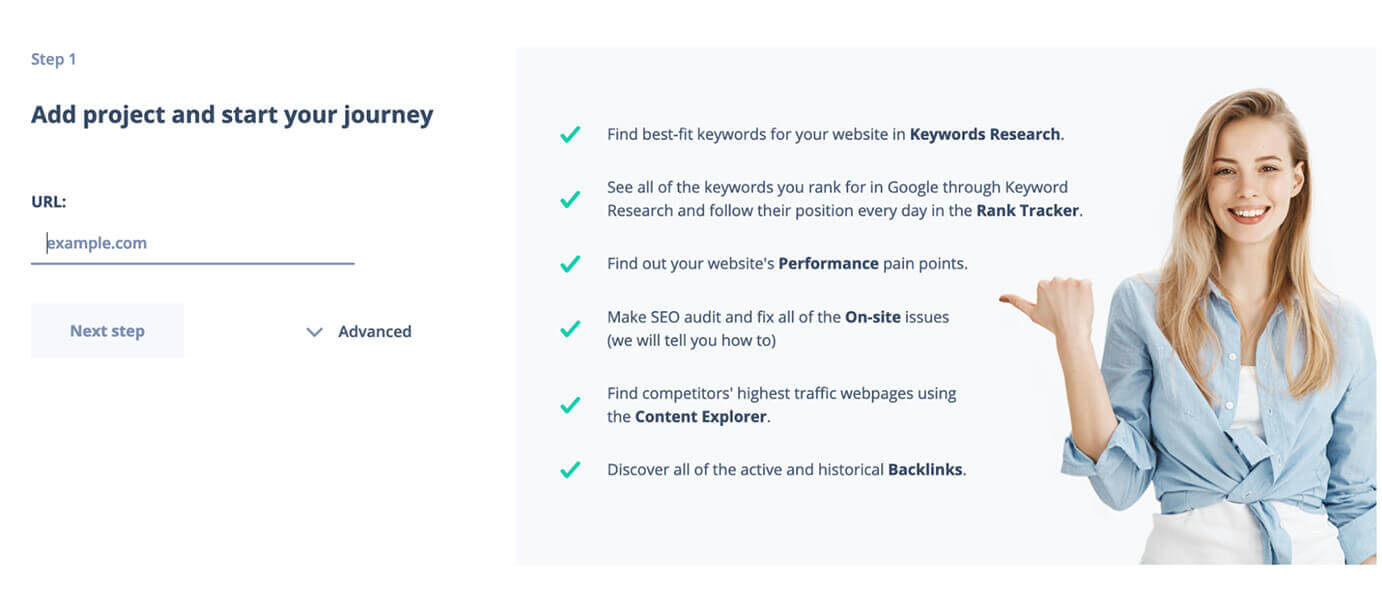 Prepare your content strategy
After the initial research, you may find some great content ideas. But you should also decide what to prioritize and how to organize your content.
What is a content marketing strategy?
It involves planning your content creation processes, tasks, and metrics. For example, you should decide what are the most important topic clusters and align them with your business goals.
Make sure that:
You don't have multiple pieces of content that are very similar

The structure of your blog and website is clear and hierarchical (it has categories, pillar pages, etc.)

You know what are the goals for specific articles or videos (leads, click-throughs, purchases)

You are able to publish new content on a regular basis
Planning ahead is important, because content is not published in isolation. Your website should be easy to navigate for humans and for search crawlers. Interconnecting all of your pages in an organized way is extremely important for ranking.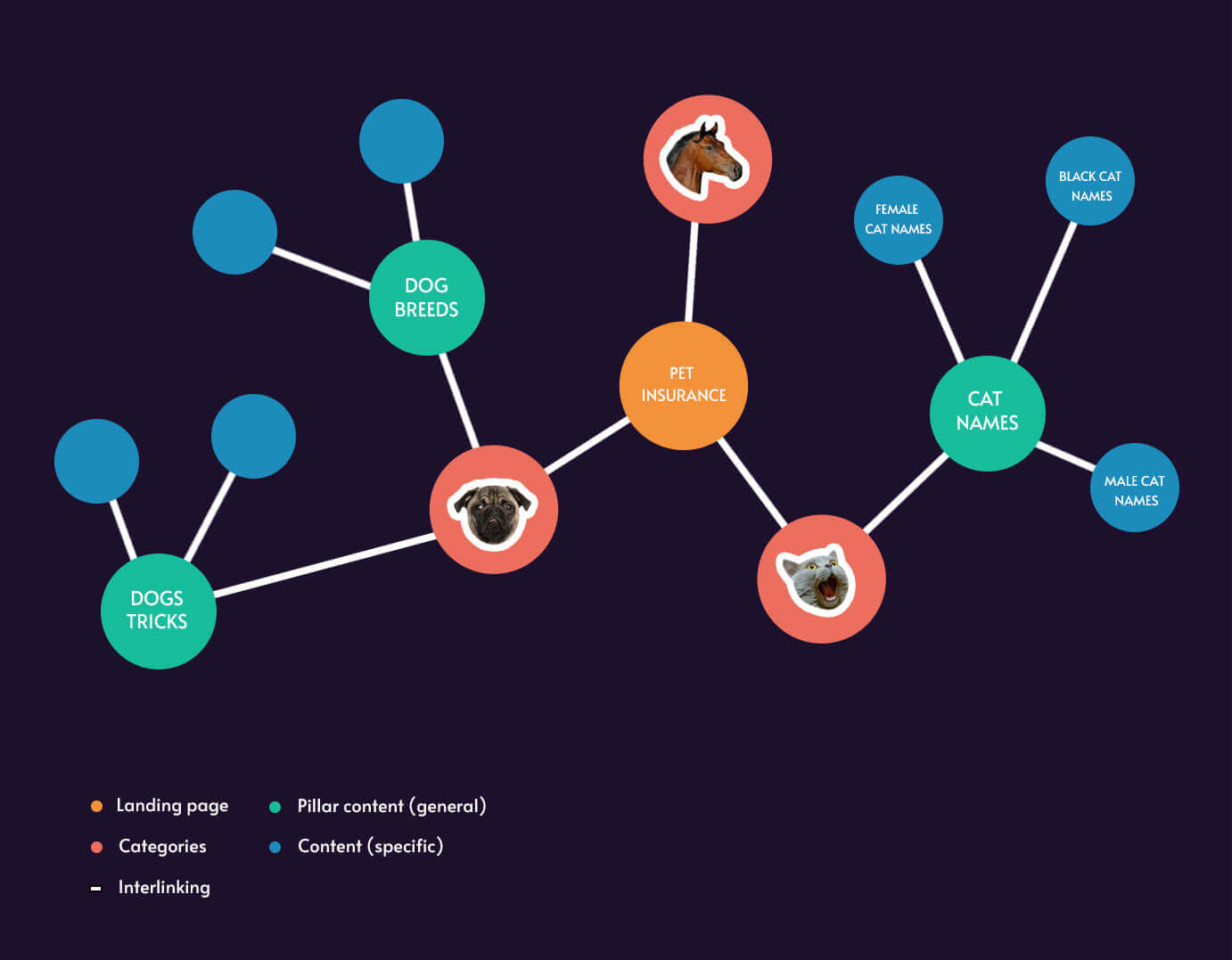 Use SEO copywriting techniques
Creating content for inbound marketing is very different from writing a regular blog. Typically, it should be more actionable and straight to the point.
Journalism is story-driven

Blogging is personality-driven

SEO content is intent-driven
If someone is looking for the best keyword research tools, you give them a list. If they want to learn how to tie a tie, you create a step-by-step guide. Preferably with nice images and infographics that illustrate different tie knots.
The best pieces of content focus on clarity, great reading experience, and cohesiveness. Google and other search engines are quite good at recognizing what any article is about. But you can make it far easier if you use the right keywords from the very beginning.
Monitor your results
The best thing about content-based marketing is that you can track your results. Everything is out in the open. You can see how many people visited a specific page, clicked on a button, or shared your article.
For example, if you want to know how many people are linking to your article, you can use a free backlink checker.
Some other good content metrics that you can measure include:
The number and positions of ranked organic keywords

Click through rate, signups, and purchases

The number of shares on social media and comments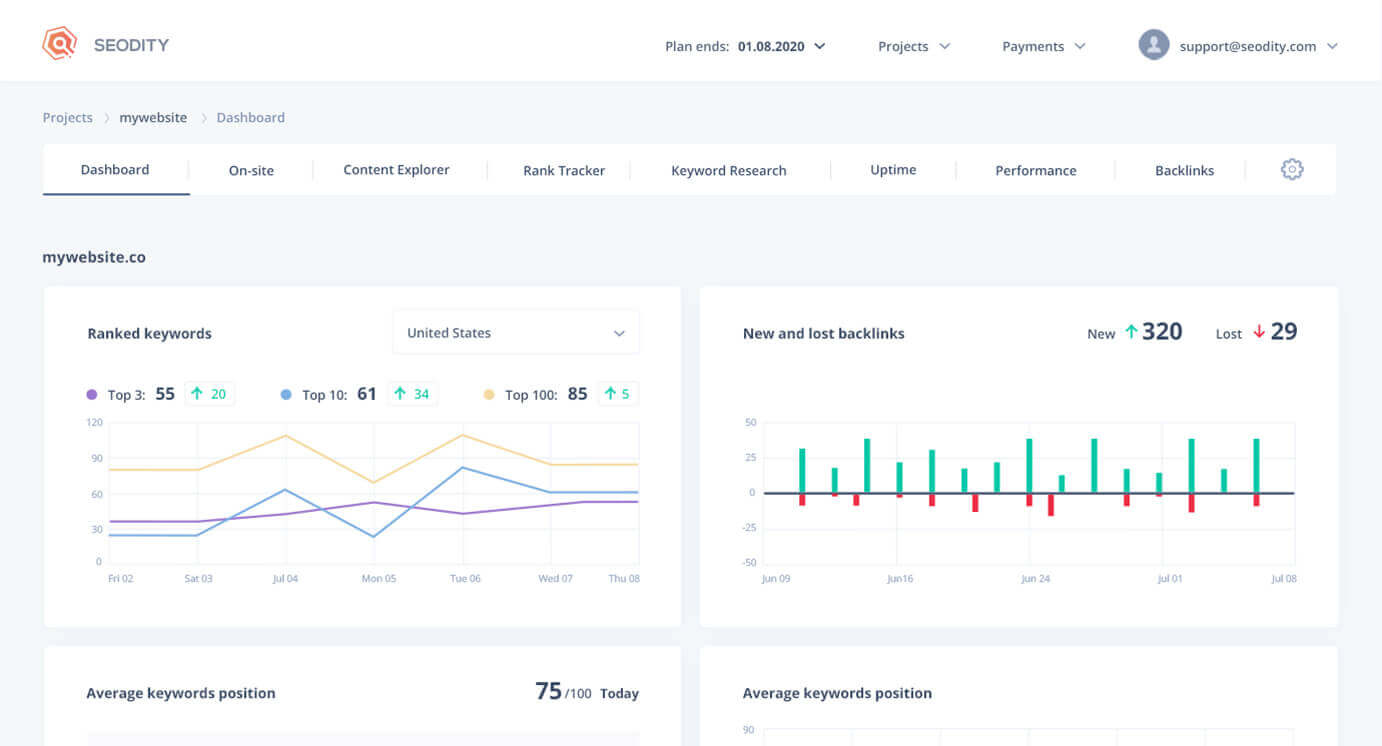 Additional content marketing resources
The concept of content marketing (sometimes known as content advertising) may appear intimidating. But there is nothing to be afraid of. Boosting your website traffic with data-informed content strategy is just around the corner.
It is easier than you think—if you use the right tools.
If you want to read more, here are some useful articles:
If you want to learn the content marketing basics, there is no better way than to play around with SEO software.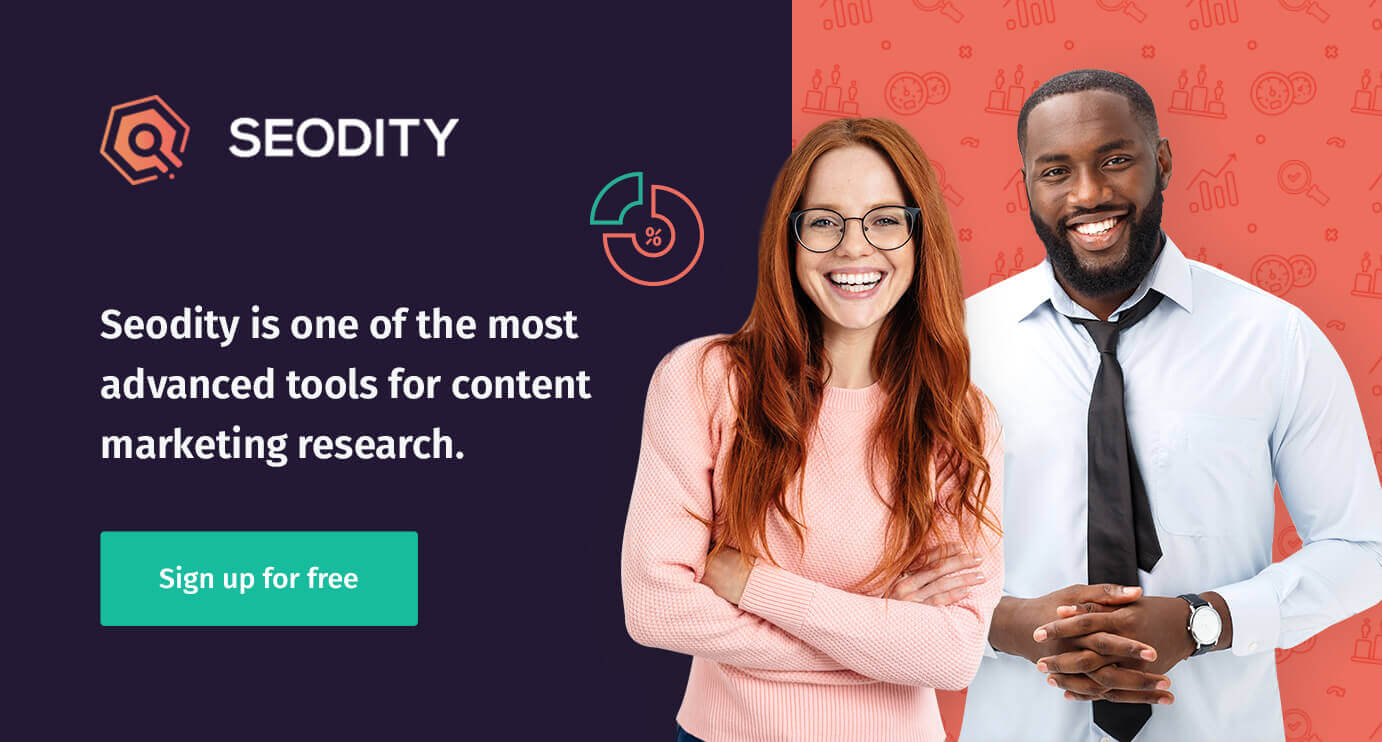 Did you enjoy this guide to content marketing? Leave a comment below and let us know if you have any additional questions.