The number of daily searches on Google is now almost 10 billion. Statistically speaking, everyone googles something once a day every day.
What does this mean for businesses?
If you can make your website #1 in Google search results, you can reach any type of customer you can possibly imagine.
Of course, as long as you understand what SEO keyword research is and how to do it.
In this keyword research guide for beginners, we'll answer the following questions:
What is exactly keyword research?

How does it connect with SEO?

How to find keywords that drive traffic?

What are the best practices of SEO keyword analysis?

What should a good keyword research report include?
If you want to jump straight into the action, you can also check out:
If you want to get a better understanding of the topic first, let us start at the very beginning and the definition of SEO keyword research.
What is SEO keyword research and what is its purpose?
Keyword research is the process of finding out which search queries are most popular (and easy to rank for). It also allows you to pick keywords that have the greatest business potential. A thorough keyword analysis helps you attract organic visitors.
SEO keyword research helps you find the most popular topics that people search online.
The most important information you get by doing keyword research include:
Keyword search volume. How many people type in the keyword in Google every month.

Keyword difficulty. How competitive your keyword is and how difficult it will be to reach top positions.

Cost per click. How much you would pay per visit if you started a Google Ads campaign for those keywords.

Related keywords. Different variants of similar search queries that you should use throughout your page, in your title, headings, and URLs.

Keyword positions. How high existing websites rank for a given keyword.

Keyword traffic. The estimated number of monthly visits that a website generates when ranking for it on a specific position.
You can obtain all this information with popular keyword research tools.
Here is an example of a keyword with a high purchase intent:

About 12,000 people in the US ask how to buy gold on Google every month. The average cost per click is about $11 and it is an extremely difficult keyword, with Keyword Difficulty maxed out (100 on the 0-100 KD scale).
Right now, an article by Forbes Advisor is one of the top ranking pieces that target this keyword. And, as it happens, it also advertises American Hartford Gold.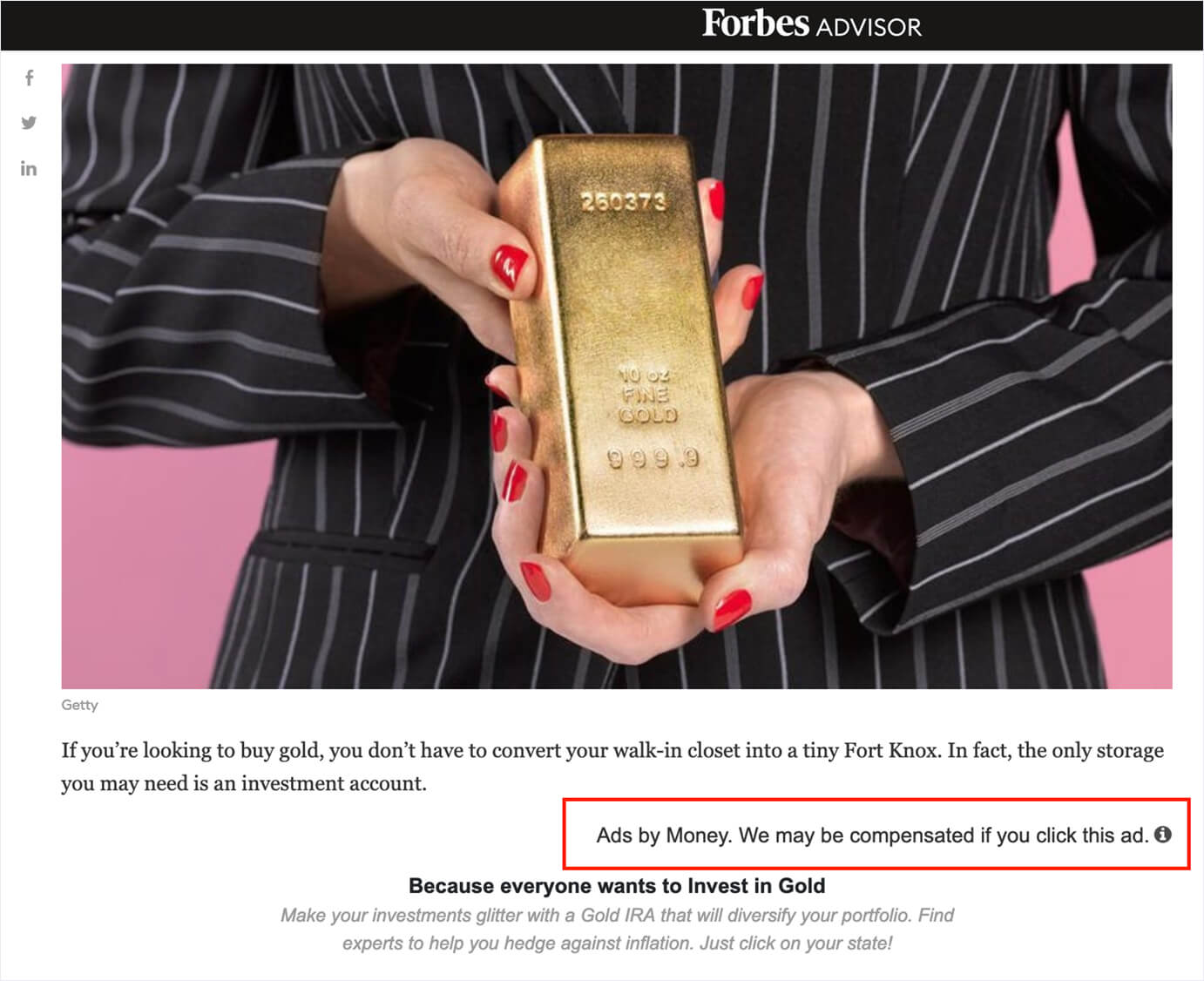 This means that Forbes is earning money by ranking high and advertising gold investment products. And how to buy gold is only one of the keywords that this particular article ranks for. Other keywords include where do I buy gold or even how to buy gold bars.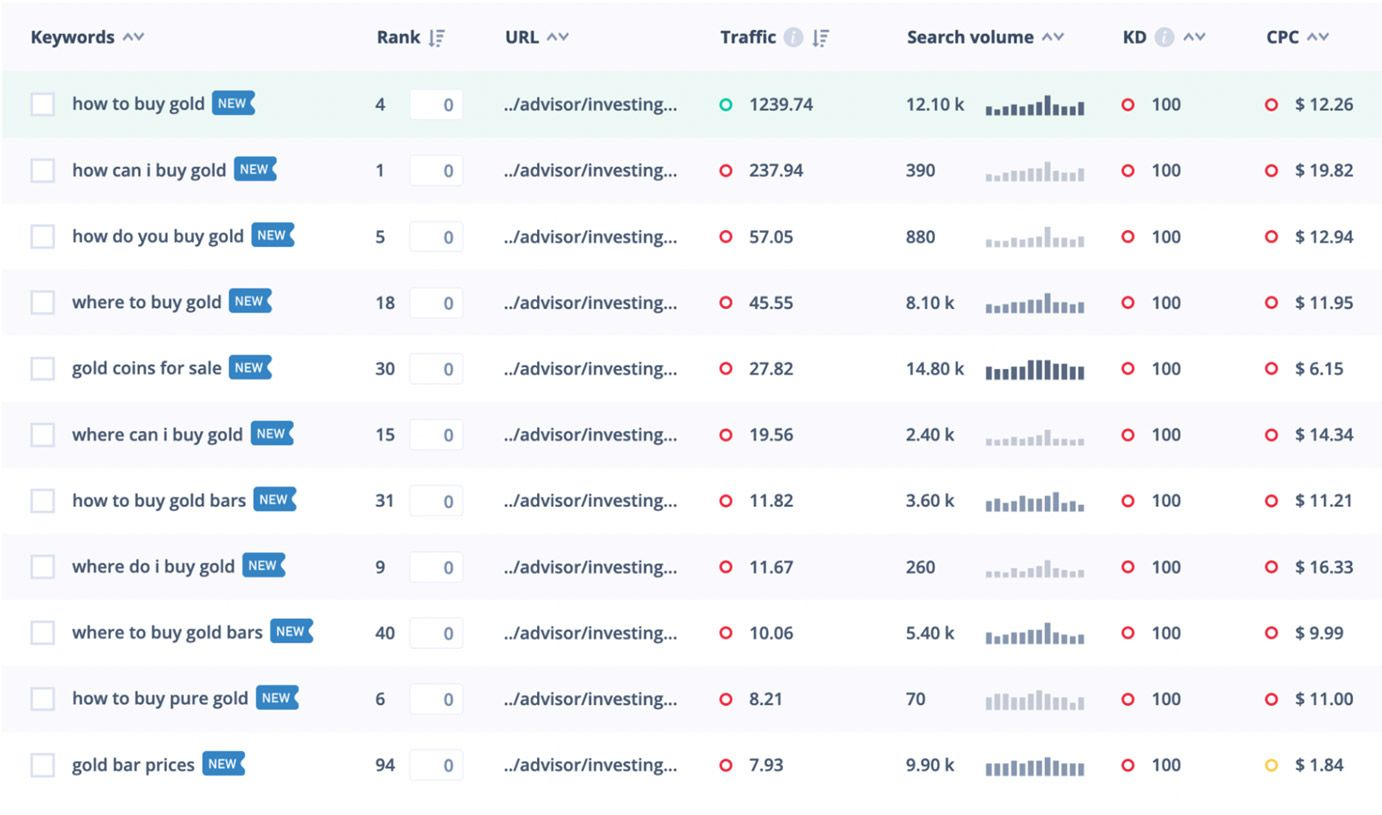 As you can see in the screenshot above, gold-related queries are extremely competitive. However, you can find other products or services to sell or advertise.
Here are some easy-win keyword ideas:

A search term like how to buy disneyland tickets has a lower search volume of about 1000 searches. But it is much easier! A guide to buying tickets by La Jolla Mom is among the top 10 results and offers discount prices. In fact, La Jolla Mom is an affiliate partner and gets paid for every ticket booked via the website.
You may have already noticed one huge advantage of this type of advertising. It is much easier to sell gold bars or Disneyland tickets to people who are actively searching for information about them.
The purpose of keyword research is to:
Identify the best keywords

Put them into your content

Win the highest search engine position

Attract the right customers
Keyword research is only part of a larger process. Generating high-quality content through SEO copywriting techniques is just as important as SEO analysis. But it is critical to start with the right research.
So, how to know what keywords to use for SEO?
Here is our step-by-step guide for beginners (and professionals who want a more organized keyword research formula).
How to do keyword research for SEO
In keyword research, the order in which actions are performed is important. We need to determine our business goals before we select our keywords. And before preparing our content we should know what is the main intent for every article or landing page that we plan to publish.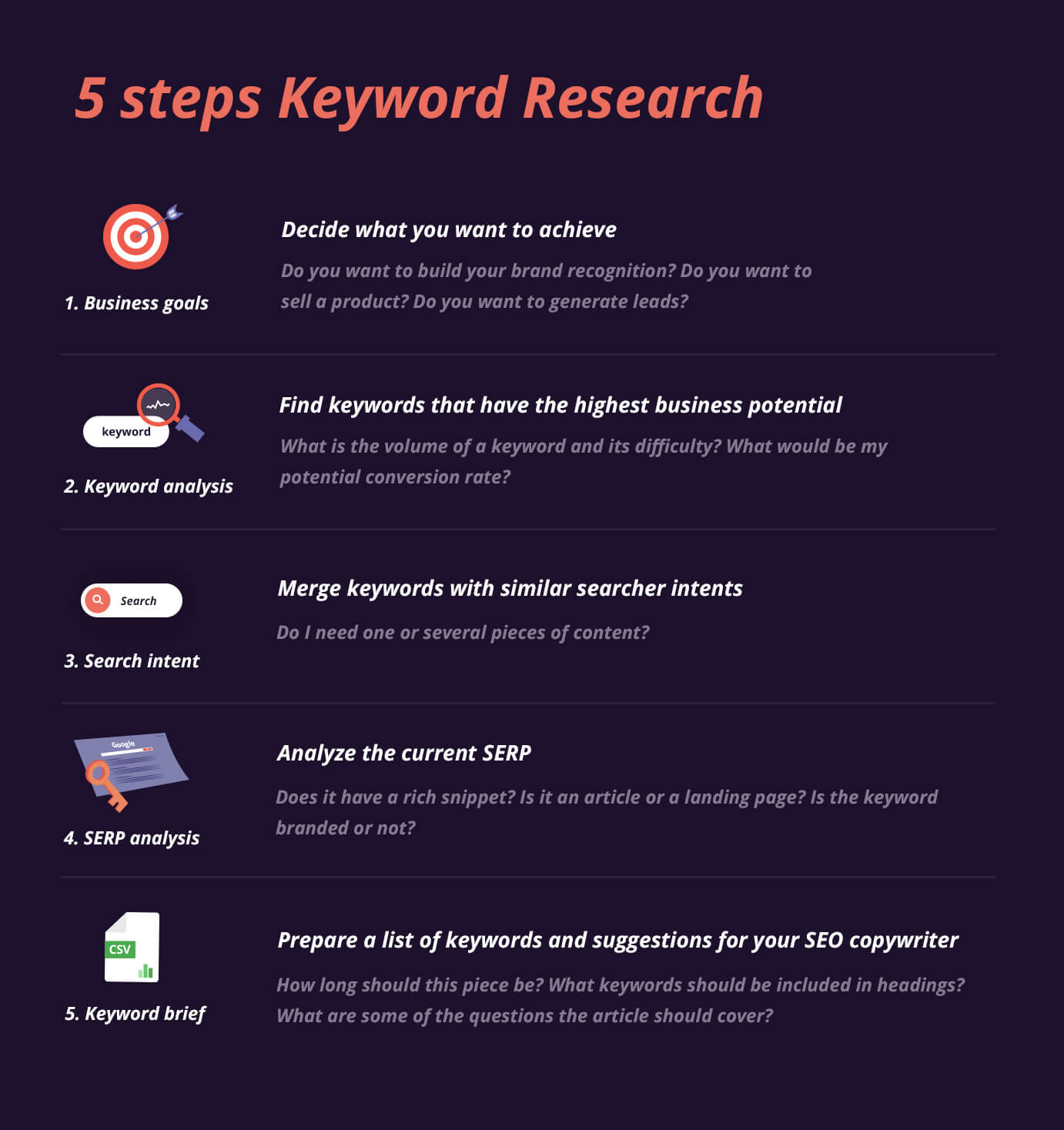 Choose the right topics or find your competitors
This is actually step zero. It should happen before the main part of your keyword research. You need to know where to start. Once you have some general direction, it's an easy ride.
If you are a blogger, focus on your niche and things that you enjoy writing about. For example, if you are interested in music journalism, you can start with topics such as songs, albums, singers, musicians, or music genres.
Go to Keyword Research and choose Keyword suggestions from the dropdown menu. You can enter any word and click Search keywords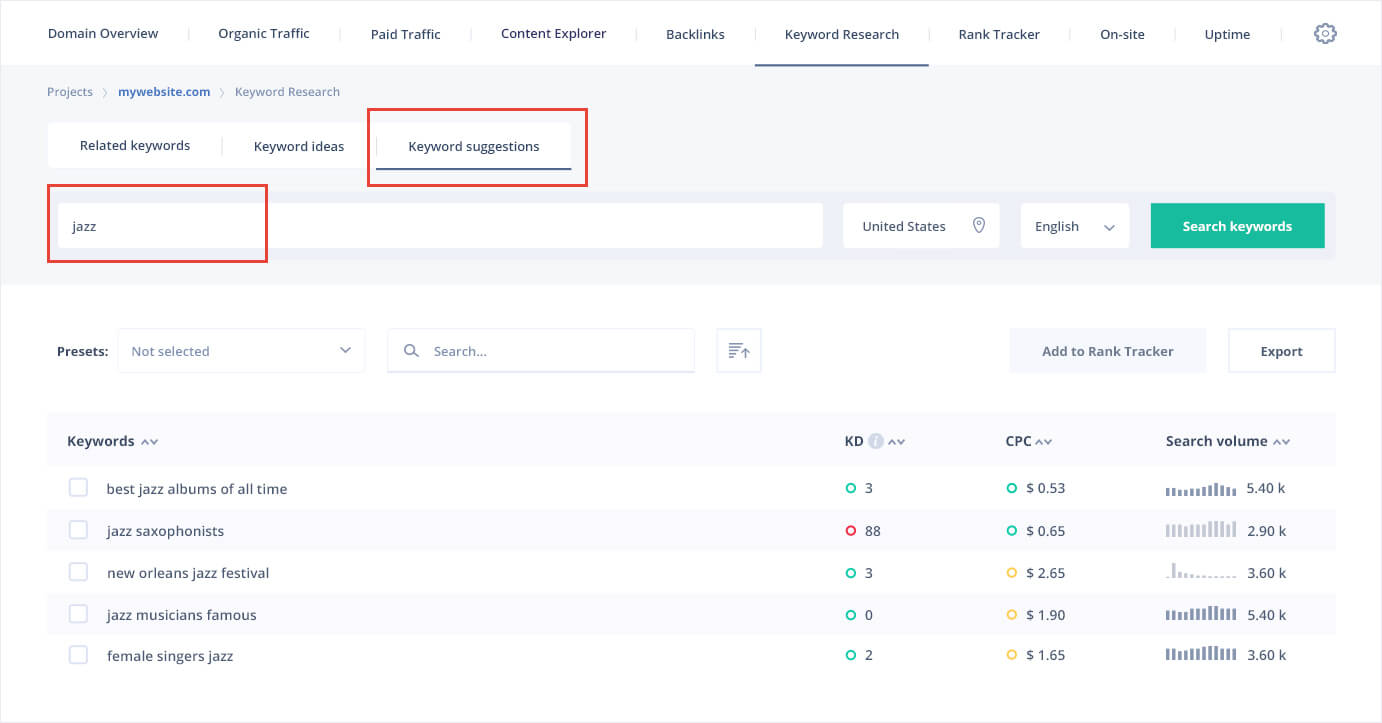 You can find out that best jazz albums of all time is a very popular keyword. Its keyword difficulty is also low, which means that winning organic traffic and top position should be fairly easy. Right now, the best ranking article comes from Matt Fripp—a booking agent and manager.
If you are a business owner, choose topics related to your products or services.
Now, let's assume that our business is an online bookstore. We want to sell more non-fiction books, novels, and comic books. We are also interested in building brand loyalty and encouraging people to subscribe to our newsletter.
Some of our competitors may be:
Instead of starting your keyword research with a word or topic you can generate content ideas by naming your competitors.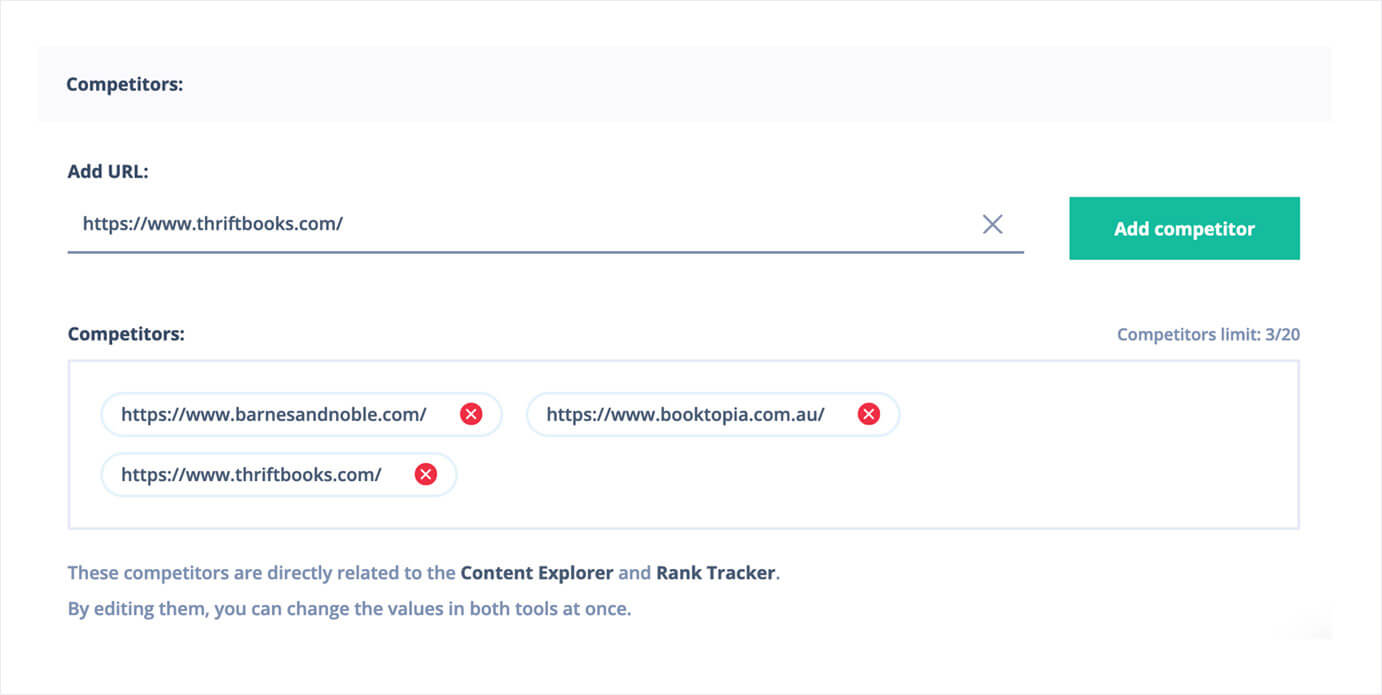 The second option is easier if you don't know what to write about but you happen to know who your main competitors are. You can open the Content Explorer tool to get suggestions based on automatic competitors' keyword analysis.
Generate keyword reports with information about their volume and difficulty
Once you've checked what your competitors' sites are ranking for, you can save your favorite ideas or export reports in CSV format. Many SEO professionals prefer to work with spreadsheets.

Spreadsheets allow you to create custom filters and add additional notes. After downloading a CSV file it is very easy to group keywords into groups and come up with content ideas. Here are some interesting keywords for our bookstore.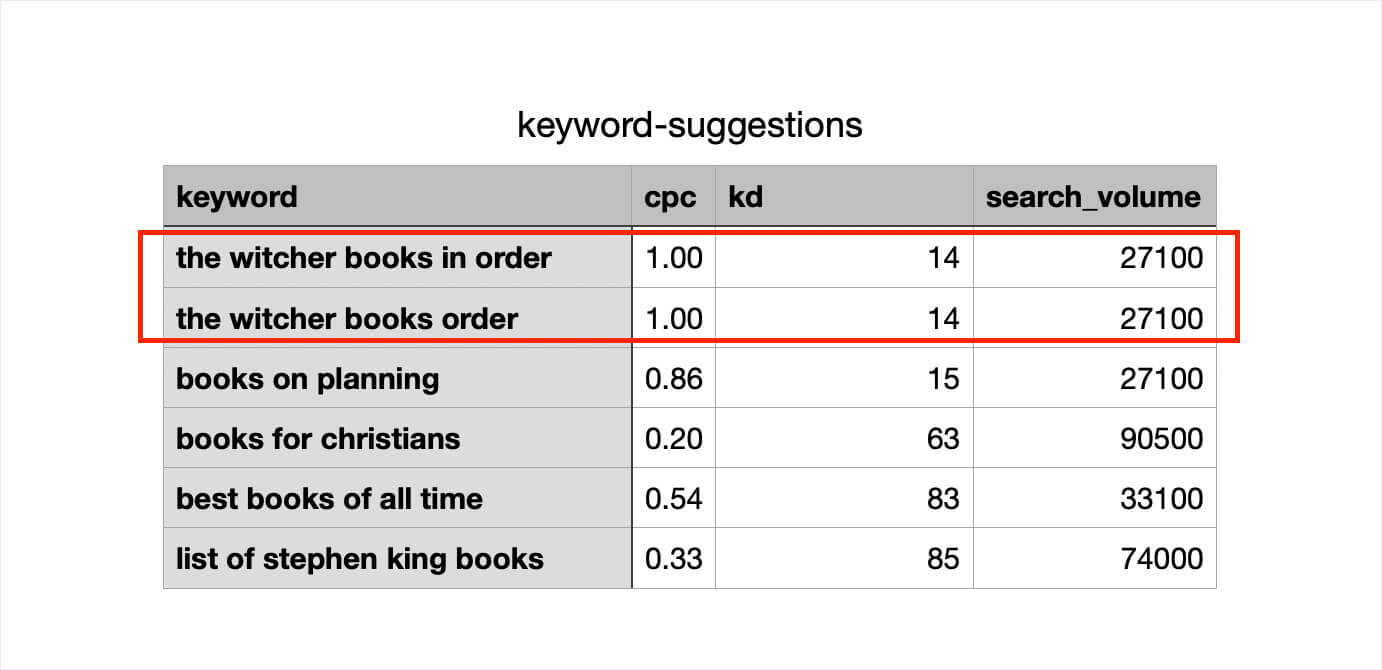 Apparently, there are thousands of people who are interested in the Witcher book series but don't know where to begin.
Hachette Book Group prepared a dedicated landing page that allows you to find out what's the correct order. And, obviously, you can buy the books too. It is a great example of content marketing based on clever keyword research.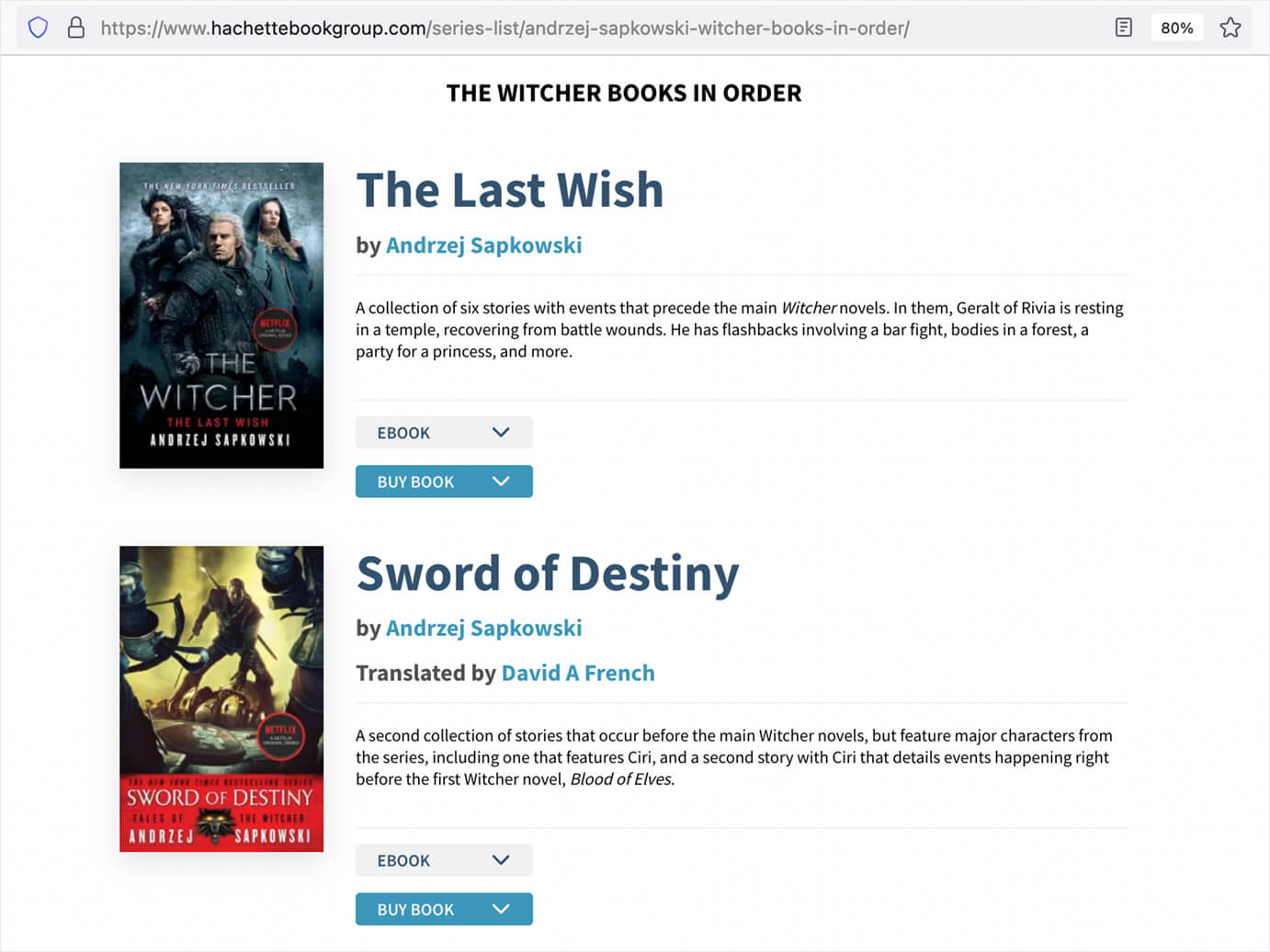 Identify your main keyword and searcher's intent
The explanation of what is the right order of reading the witcher books seems to be a good content idea. But, at this point, we need to double-check what are some other keywords related to our main topic. After generating a separate keyword research report about the witcher keyword, we find out that they can be grouped into several categories.

Some queries are about the tv show, the video game series, or the characters from the story. Keywords like the witcher book order and witcher books in order are two separate keywords but they have the same searcher's intent. This means that writing two separate pieces of content about the Witcher books—one targeting book order and another targeting books in order—would cause keyword cannibalization. You should create one page and use different variants as synonyms. On the other hand, the witcher cast and the witcher season 2 cover two very different intents, in spite of being about the same Netflix series.
You should remember that one searcher's intent can cover several keywords.
Take a look at another SEO keyword research report.

In this example, people want to find out what are the best fantasy books. Notice that they can phrase the search engine query in several different ways. But it is quite clear that the best fantasy books and best fantasy novels are pretty much the same. Novels and books are synonymous in this context, since the majority of fantasy literature are novels. A page by Time magazine about the 100 best fantasy books ranks very high for all of these keywords.
Use incognito mode and analyze the SERP
Trying to guess the main intent behind each of the queries that searchers type into Google is a good exercise. The longer you do keyword research, the better you get at making the right predictions and it will become your second nature. However, it is always a good idea to take a quick look at the search engine result pages themselves.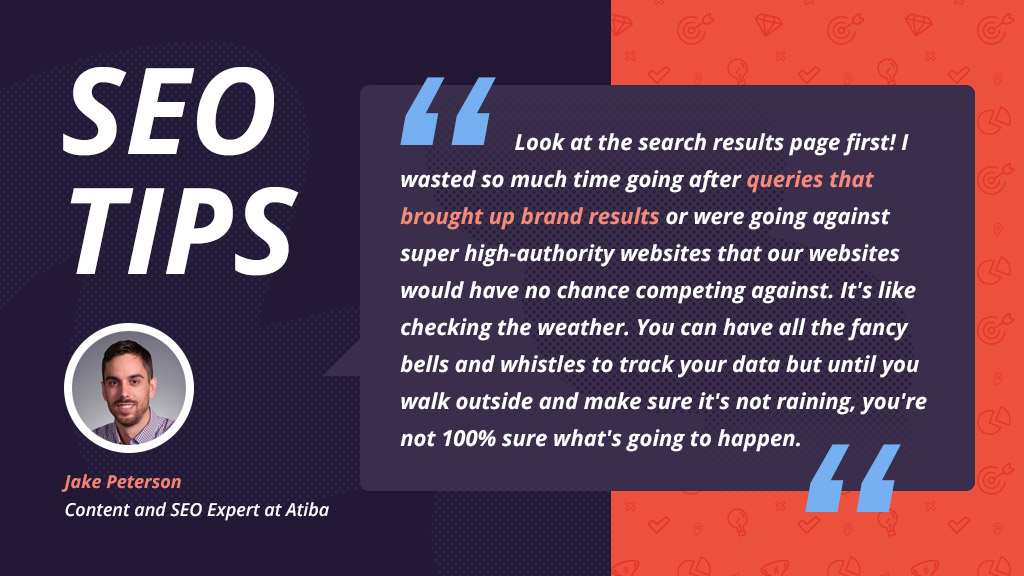 Checking what a given query returns in Google usually gives us additional clues as to what the article should be about. The People also ask section of the search result page can give you many insights on what extra topics may be worth mentioning.
How do you search for keywords on Google? By going deeper and deeper into the rabbit hole. Let's try it out.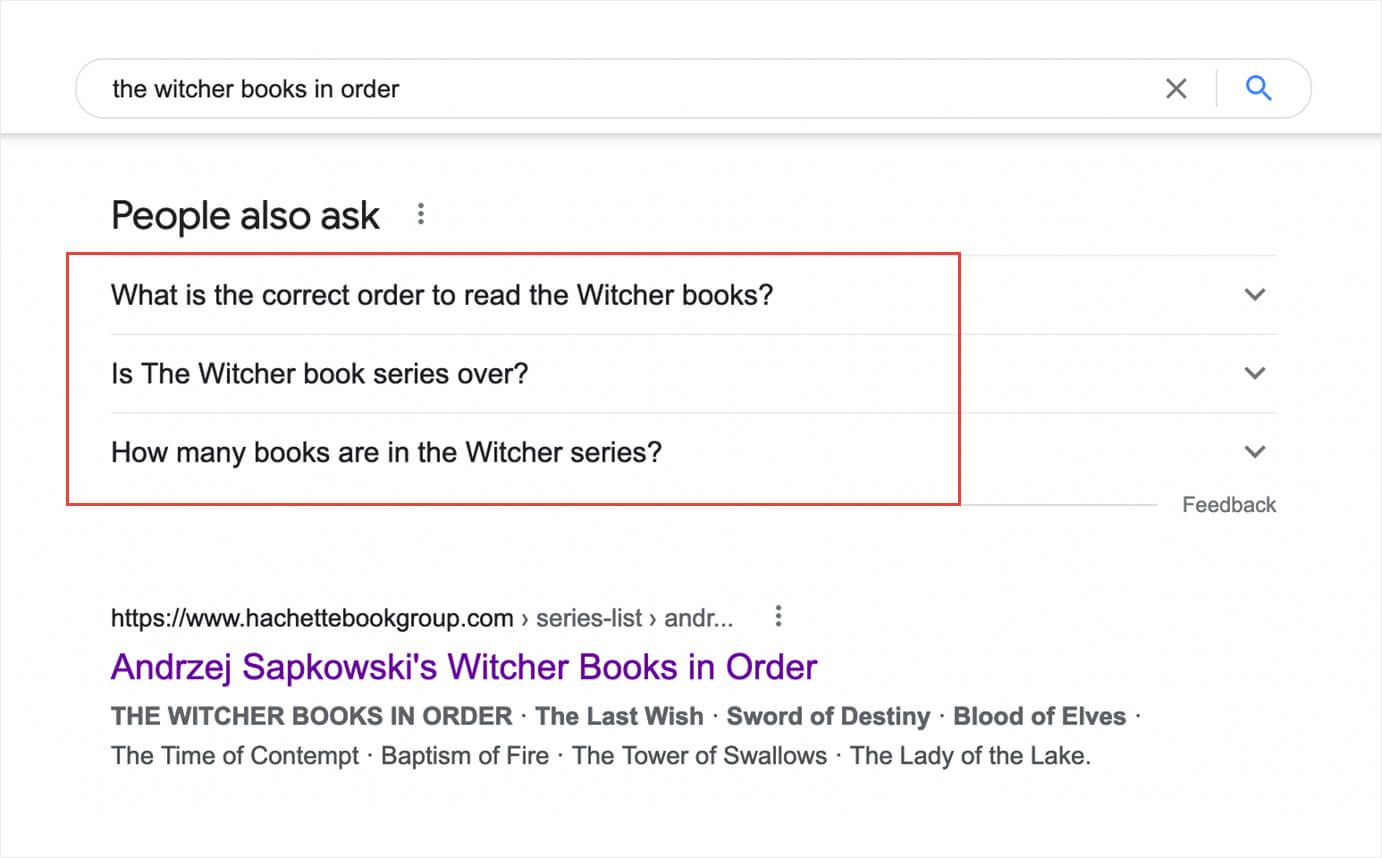 As you can see, there are some relevant questions that you can use in your h2 and h3 headings. If somebody wants to find out the correct order of reading the books, they are probably also interested in the number of books and whether the series is over or ongoing.
If you google how many witcher books are there, a featured snippet pops up—a special type of search result that instantly shows the answer to your question.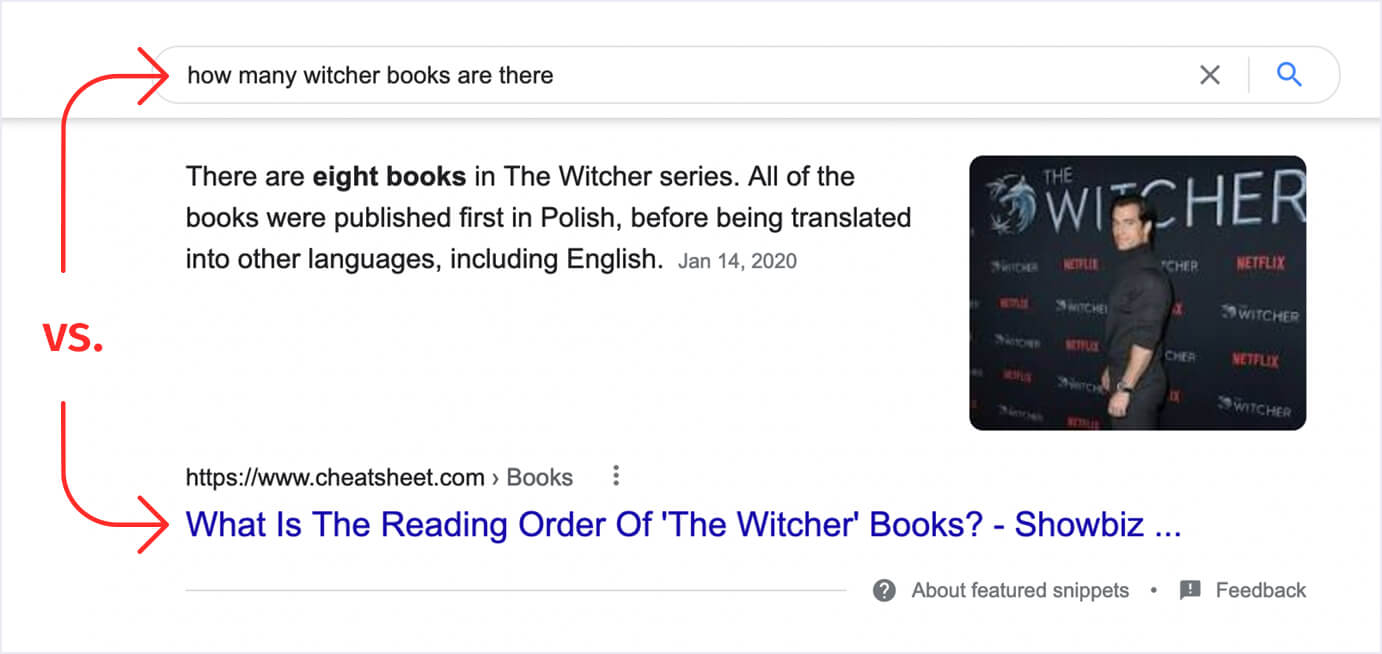 Notice that the answer to this question comes from an article What Is The Reading Order of "The Witcher" Books. This suggests that there is no separate piece necessary and the question about the number of books can be covered in the article about the reading order.
Prepare a list of keywords for your copywriter
SEO keyword research and SEO copywriting are two very different activities. Sometimes they may be carried out by the same person but it is also possible to divide the tasks between SEO research experts and content creators/copywriters.
Here is an expert keyword research that could be used to create a high-ranking piece about the order of the Witcher books.
SEO keyword research document example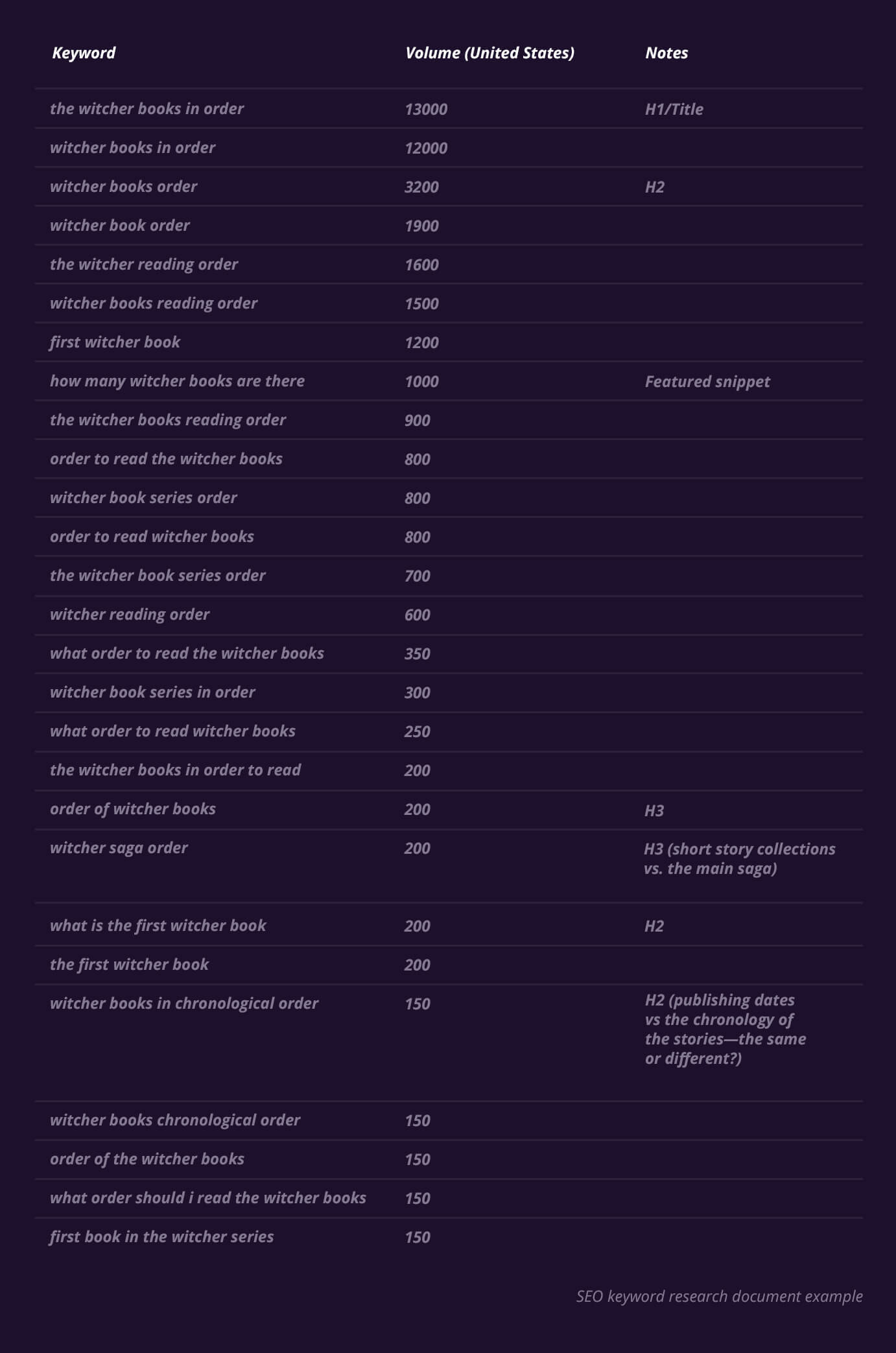 This set of keywords should be more than enough to start working on your own take on this article. The piece should be about 1500-2000 words long. Just remember to add CTA buttons that allow visitors to buy the books.
How to research keywords for SEO—key takeaway
Keyword research is a powerful online marketing technique. It can give you a competitive edge and increase organic sales by attracting the right visitors.
You can use quick keyword research tricks or advanced techniques to:
Win higher positions and increase your website traffic

Steal the best content ideas from your competitors

Find what the most popular products or services in your niche are

Build online authority and increase brand awareness

Discover evergreen topics that generate predictable numbers of visits

Save money on your SEM campaigns or improve them

Plan your long-term content strategy
If you want to start right away, try one of the most powerful SEO keyword research platforms now.