Looking to find the best keyword research tools? With all the many options out there, we know it can be a bit daunting. Which SEO keyword tool should you get? Which is the best value for money? Which is the easiest to use?
If you're looking for an answer to all the questions above, you've come to the right place.
In this article, we want to help you establish an online presence. That's why we've compiled a list of some of the very best keyword research tools. We want you to start attracting a steady stream of traffic to your site. But first, what exactly is an SEO keyword tool? And what makes an impressive one?
Keep reading to find out all this, and more.
An SEO keyword tool can do many things. It can make finding blog topics easier, or give you all the data available to plan a powerful SEO strategy. With this information available in the palm of your hand, you can become unstoppable in growing your traffic.
You can explore words, topics, or website addresses to reverse-engineer some of the most-visited pages on the internet.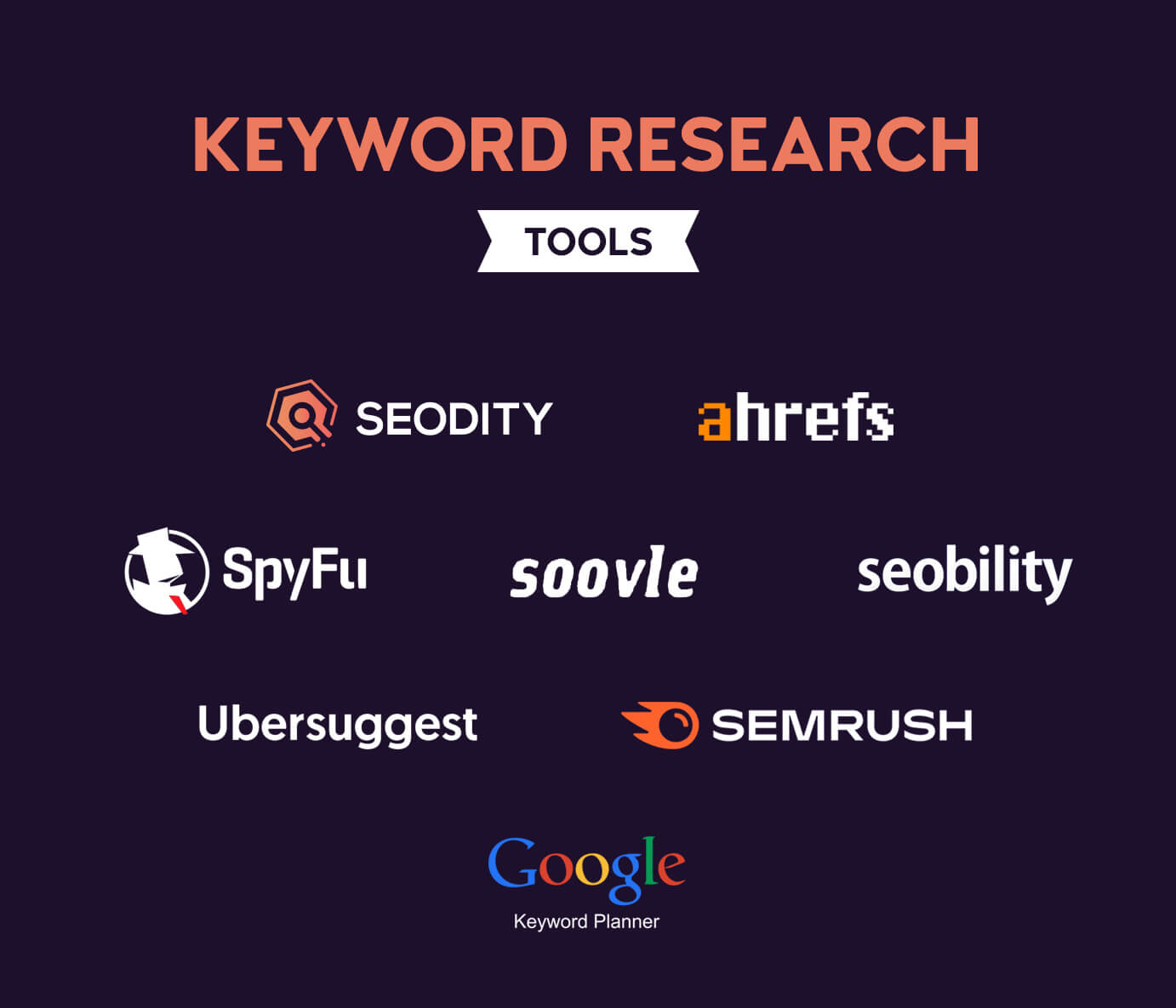 Here is our list of the best SEO keyword research tools:
Let's go through their features and pricing plans one by one. You'll also find some tips on using specific features for generating new keyword ideas.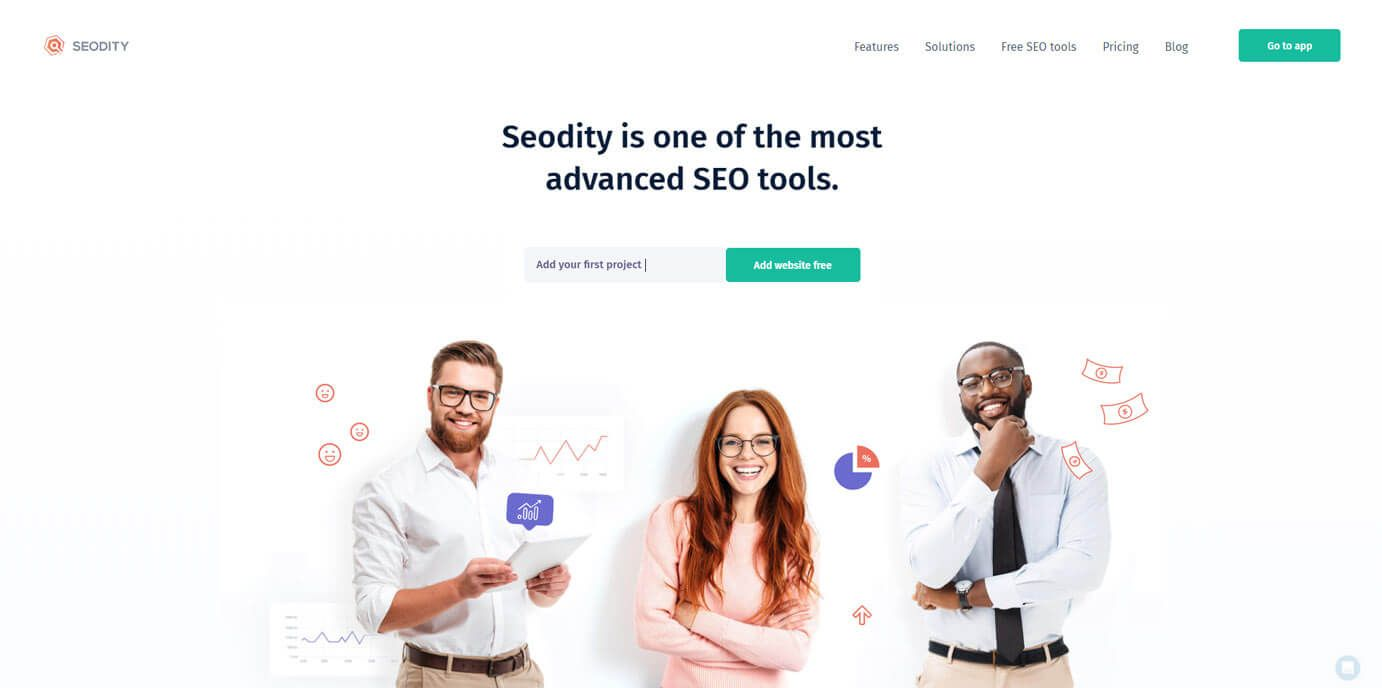 Seodity is a great SEO keyword tool. It provides keyword suggestions, position tracking, competitor content analysis, and much more. The platform also offers many technical SEO features and on-site audits.
You can use this app to check keywords manually by URLs or topics—which is OK. However, you can also generate article ideas right away by typing in a list of your competitors!
Seodity makes generating your first keyword research reports really easy. They guide you through the entire process of starting your project from start to finish. Let's take a closer look:
Your first step will be to add your website URL link.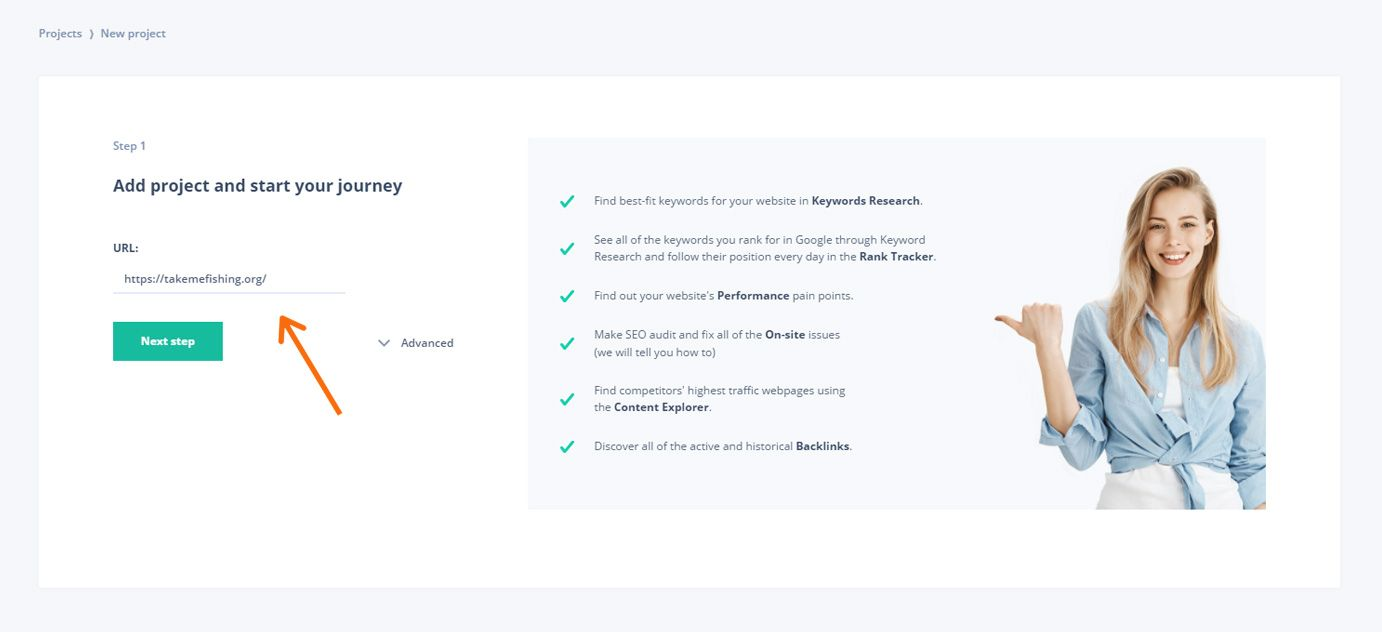 Upon clicking ''next step'', you'll have an opportunity to type in keywords you hope to rank for. This step is optional! But it will help you monitor the most important keywords from the very beginning. If you need some inspiration, you can pick keywords from the automatic suggestions.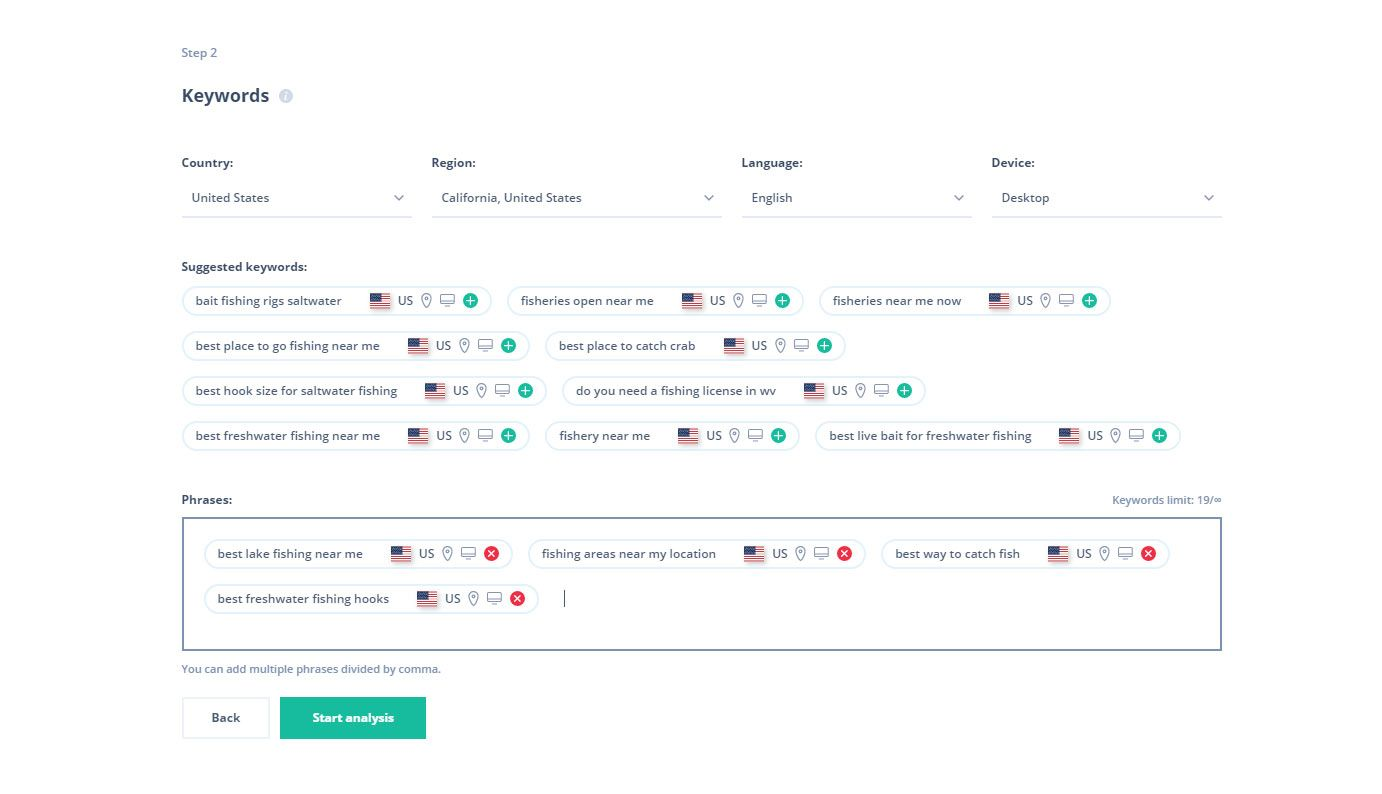 Once you hit ''start analysis'', you will be directed to your main dashboard. This will give you a complete overview of everything you need to know. Here, you'll find charts with:
Ranked keywords

On-site issues

Performance of your website

Backlinks
But let's move on to the our main course—the keyword research option.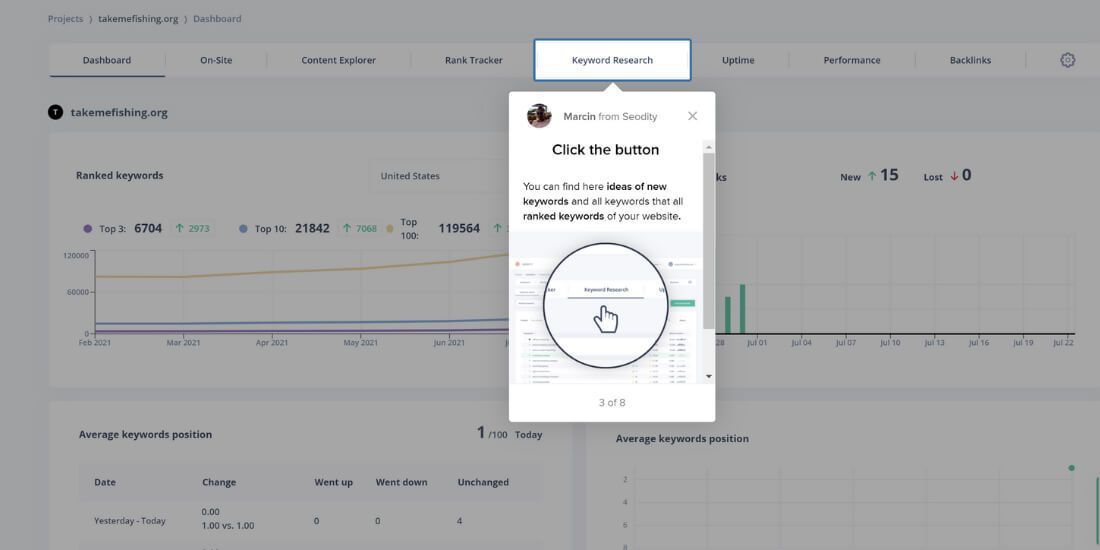 If we type in our topic, for example fishing, we get a list of best keyword ideas and existing websites that rank for them.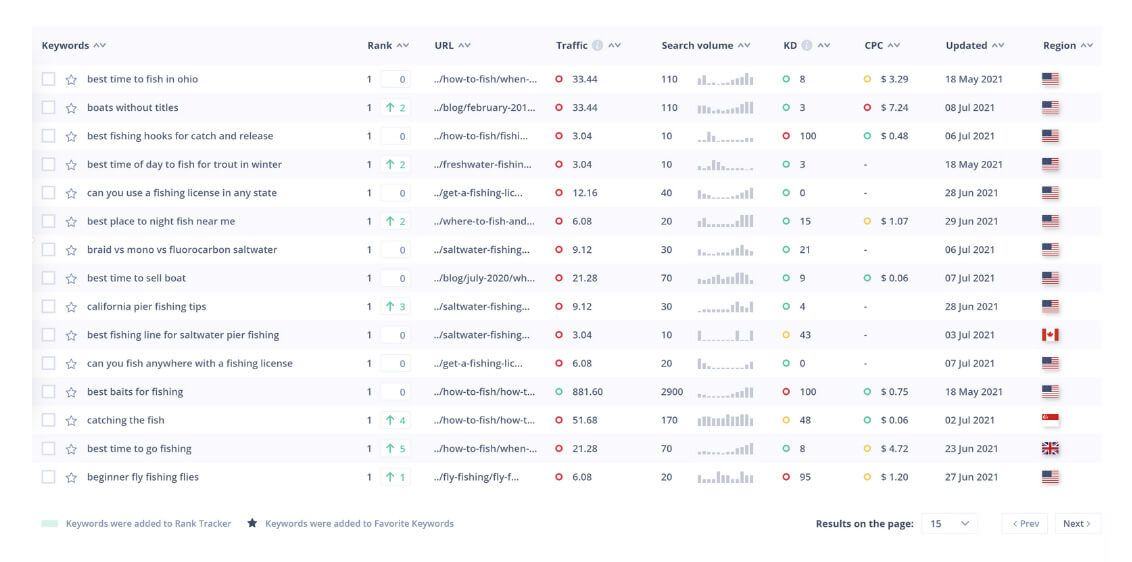 And finally, one of the features that make this the best keyword research tool out there—a competitor tracker.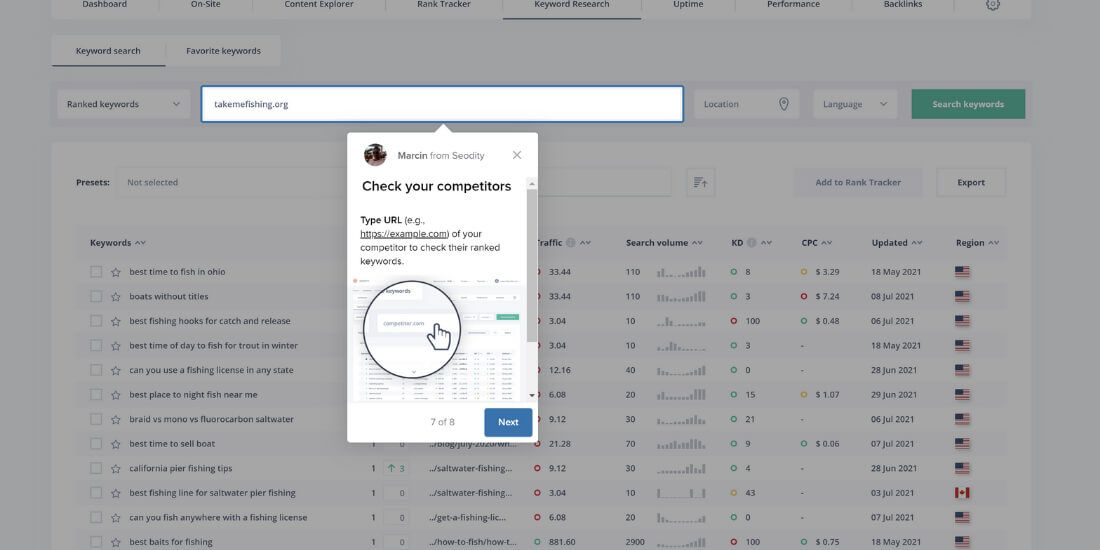 There is no need to reinvent the wheel. Just generate keyword reports based on other websites. You can use this information to get ahead of them in no time.
To break it down, Seodity's top features include:
Keyword Research: Find the best keywords quickly and easily.

Keyword Tracking: Track your ranking positions for specific keywords.

Competitor Analysis: Identify your competitor's top websites so you can make informed decisions.

Content explorer: Use this tool to find web pages with high estimated traffic volume. With it, you can discover what content is currently performing well on the internet.

Google Analytics Integration: Track and understand your website's traffic even better.
Seodity is also a good option for beginners. The onboarding is informative and the tour walks you through the main features. And, if there's still something you don't understand, their customer support are always happy to help! Just write a message through the live chat.
Seodity Pricing
Free trial: First, it's important to note that you can try out Seodity completely for free. And, with no credit card sign-up! Today, this is a super beneficial feature. So many companies out there attempt to tie you in by hoping you 'forget' to cancel your free trial. Seodity doesn't ask for any card details.
Now for the pricing breakdown:
Bronze: $29 per month

Silver: $89 per month

Gold: $149 per month

Agency: $299 per month
Click here to see what's included in the packages, and start your free trial!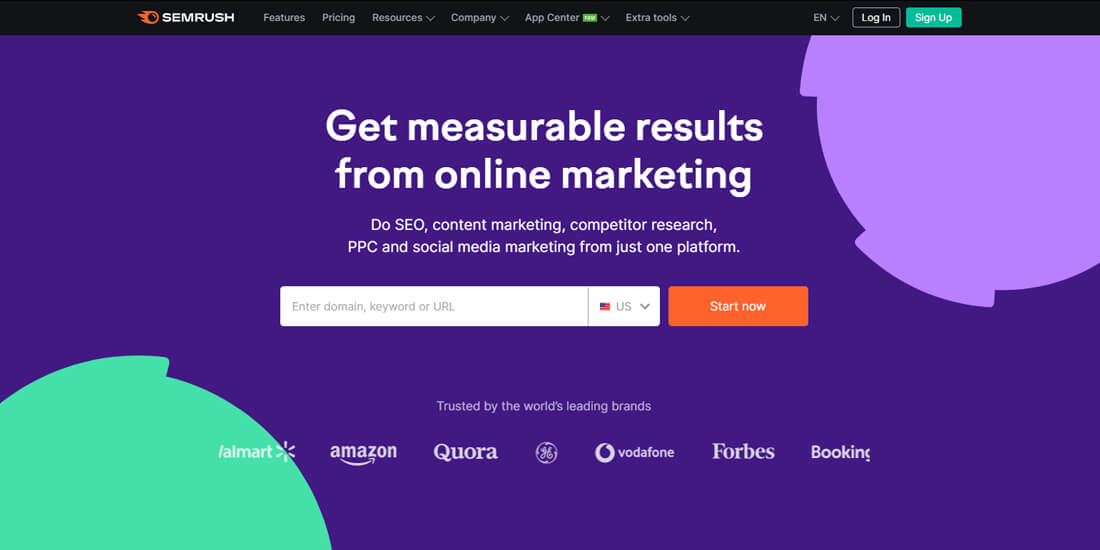 One of the most expensive out there, but also one of the most powerful keyword research tools. If you're starting out, this keyword searching tool is definitely not for you. But, if you're looking for something advanced, Semrush is excellent.
Semrush shares a ton of keyword data. It makes it pretty easy to dig into the details if you know what you're looking for! From standard traffic to content-driven keyword research, this SEO keyword tool can certainly impact your ranking.
Let's take a closer look at the Semrush keyword research software—the Keyword Magic Tool.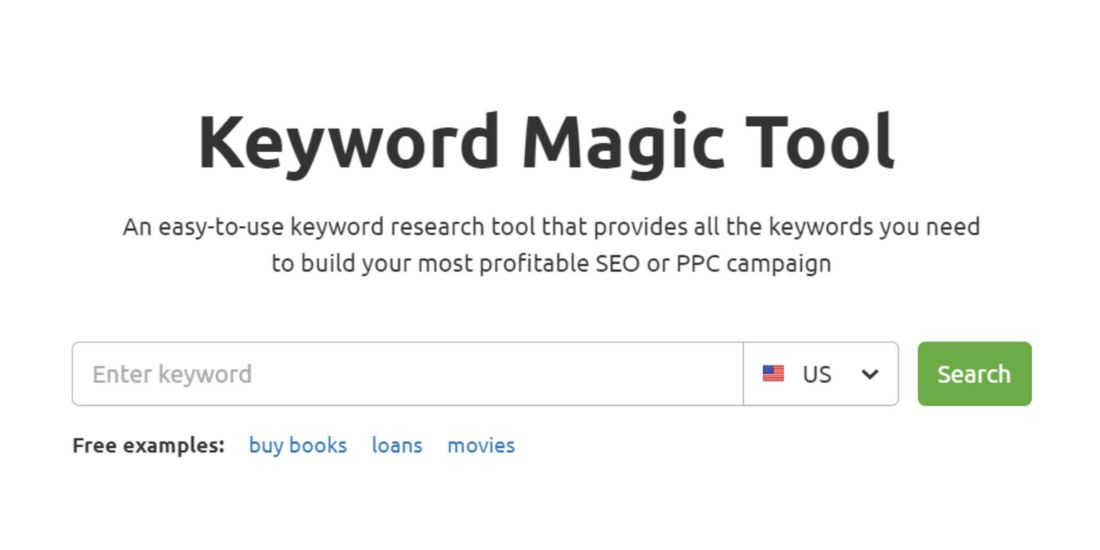 Inside this SEO keywords research tool, you'll find:
Average monthly search volume

The level of interest in a search query over 12 months

The average price for a user's click on an ad

Keyword difficulty

Top competitors

SERP features, like the number of rich snippets that appear for a particular query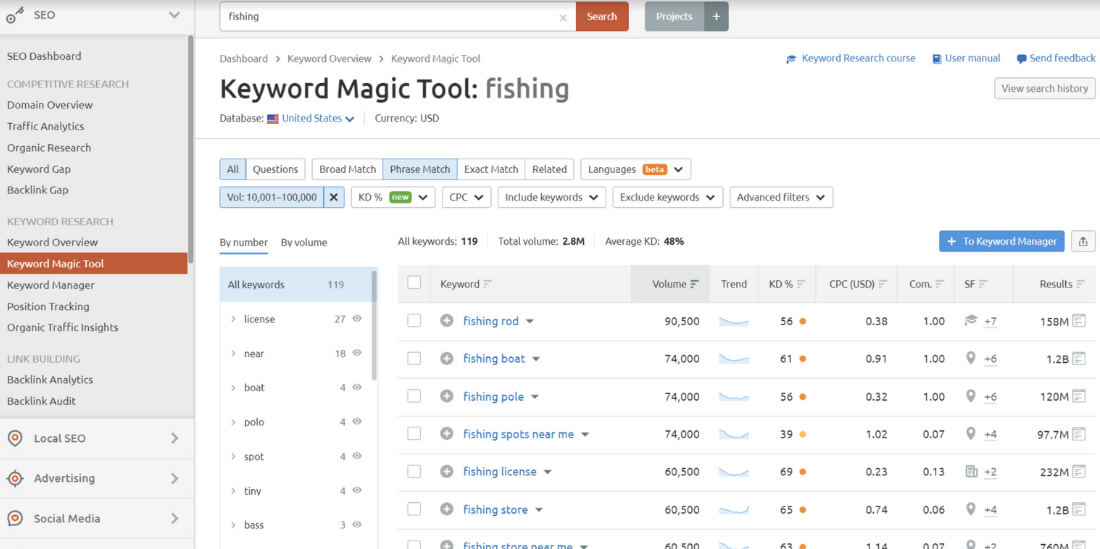 Semrush has also integrated an SEO content template tool into its system. This allows you to optimize content as you write. It grades in real-time for readability, tone of voice, originality, and of course, SEO.
Semrush Pricing
Free trial: You can try Semrush free for 7 days, but you do have to enter your card details.

Pro: $119.95 per month

Guru: $229.95 per month

Business: $449.95 per month
Click here for a complete list and description of Semrush pricing and packages.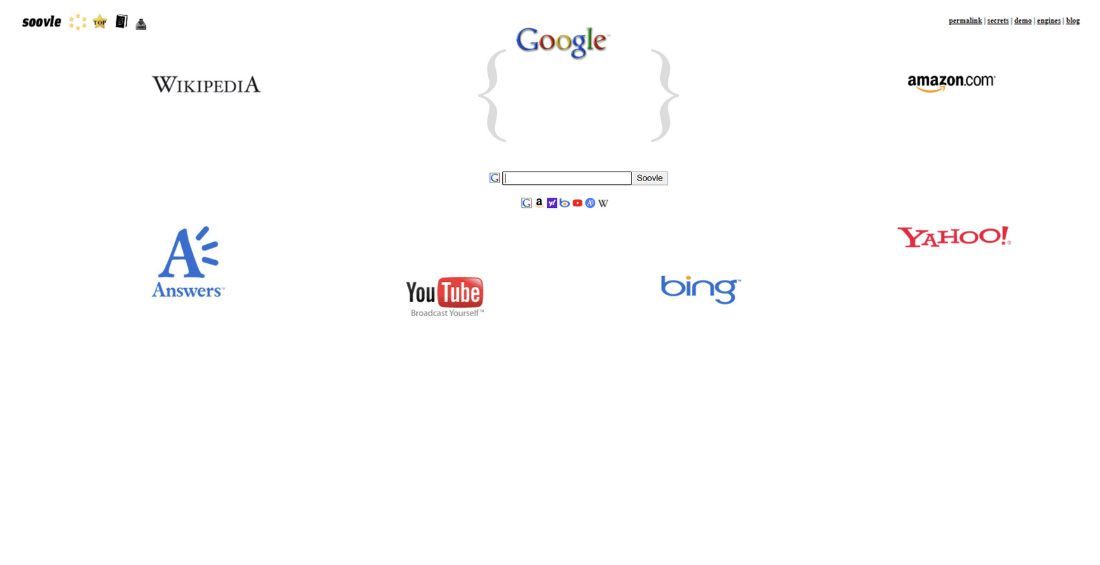 From super expensive to free, we have Soovle—a completely free keyword research tool.
This free SEO keyword research tool boasts a customizable engine. It suggests keywords from all the prominent providers in one place! Search engines like Google, Amazon, Bing, Youtube, and Yahoo are part of Soovle. It's fantastic when it comes to finding content creation inspiration.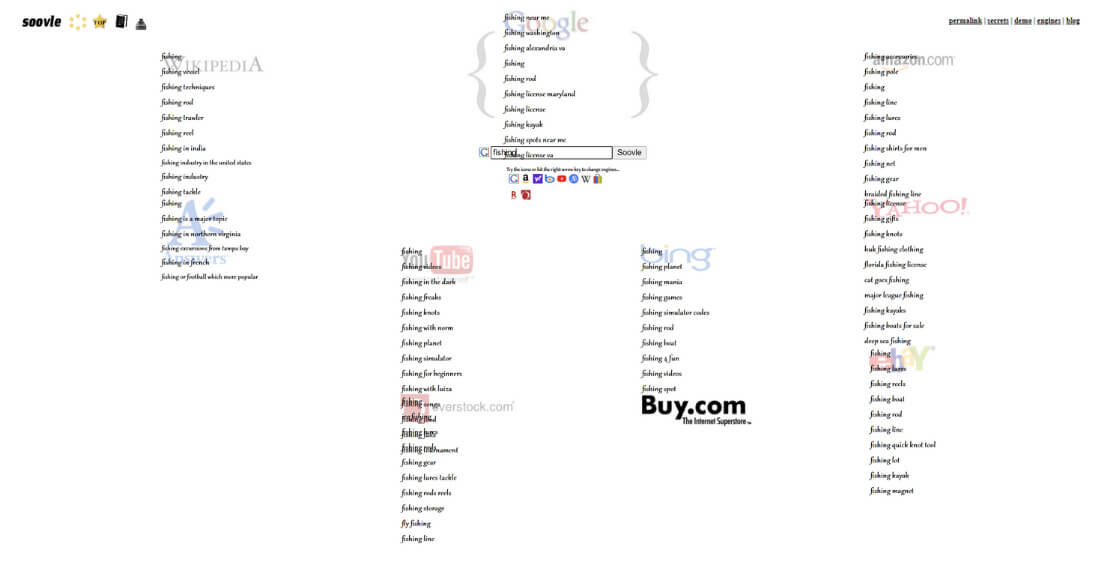 With this free tool for keyword research, you can find unique untapped keywords. Also, you can use Soovle's notable drag and drop feature to save your favorite keyword ideas. Or, download your favorites to a CSV file and keep them close to your heart.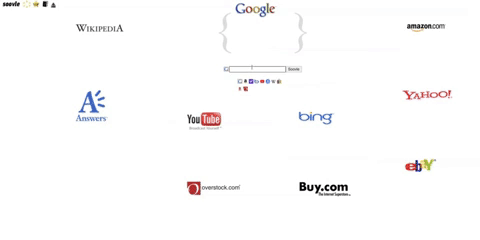 Now, we know that Soovle may not necessarily boast a fancy interface or a world of options. But, it really is one of the best free keyword research tools out there.
The several ways to play with Soovle:
Put in a search term, and hit enter (or click "Soovle").

Scroll through the suggestions and go ahead and click any of them;

Results will update quickly based on the phrase you just selected.

Now, feel free to repeat steps 1-3 as many times as you want!

Yep, it really is that easy.
What's the catch?
You won't find search volumes and you cannot scrape keywords by entering a domain name. Without estimating the traffic potential of a keyword, it is hard to use it for professional SEO.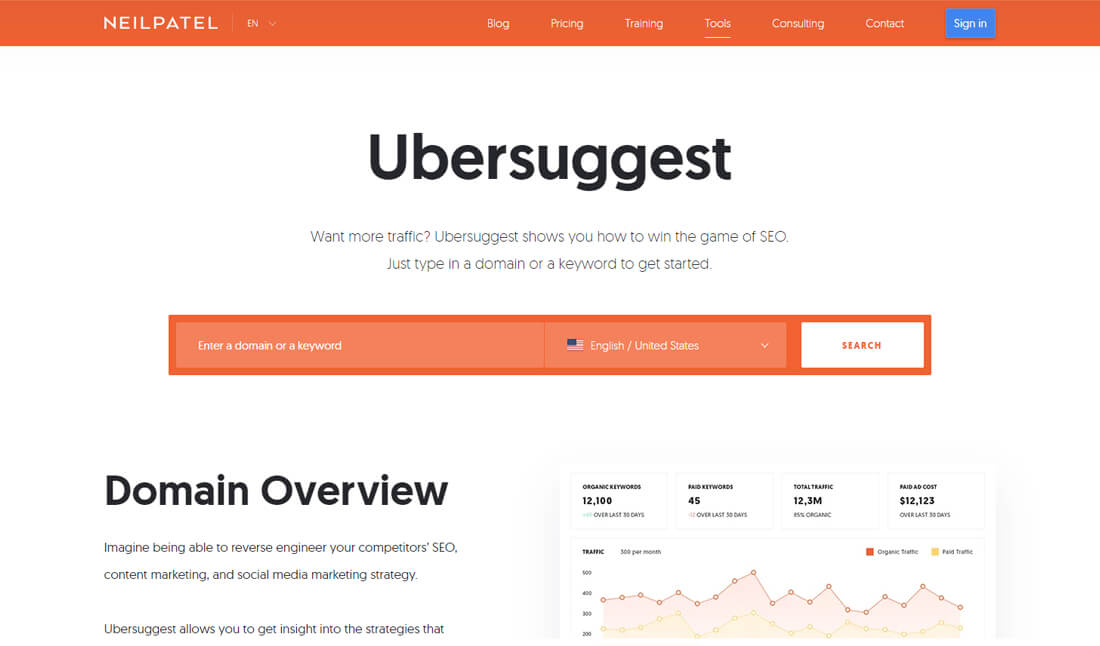 Ready for more free keyword search tools? Of course you are! Seriously, who doesn't love free stuff? Especially when it's from the SEO guru, Neil Patel.
Ubersuggest is more advanced than Soovle, but there is also one big catch—you are limited to 3 searches per day.

Ubersuggest is a tool that people love everywhere, and for good reason. Although many of its features are free to use, you can get a paid subscription to level up your SEO strategy.
It offers search volume data, how your competitors are ranking,  and keyword suggestions. Also, it provides you with an idea of how complex your keyword will be to rank, and so much more.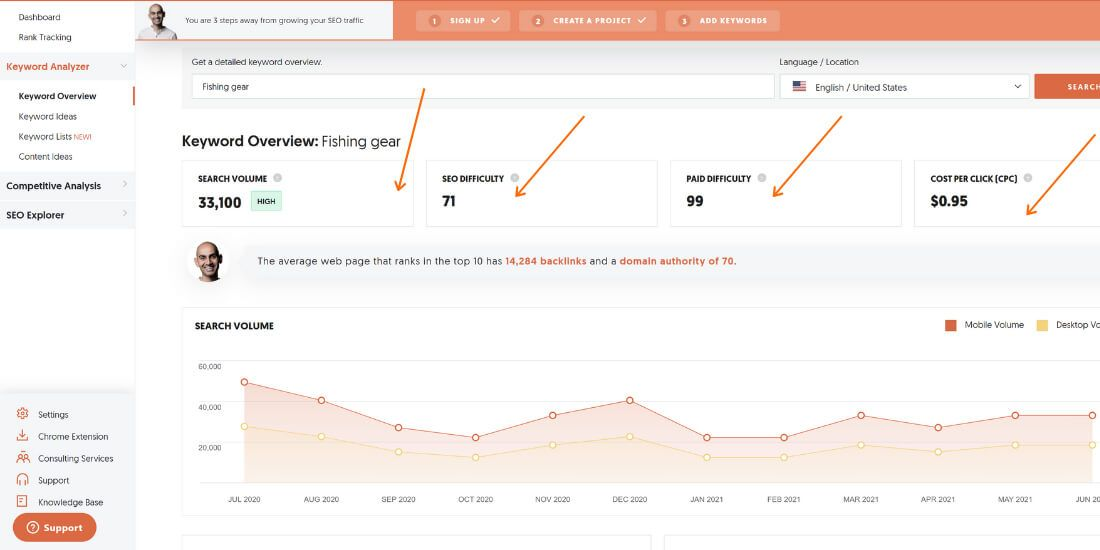 Ubersuggest also gives you a table of the top 100 Google results for a specific keyword. In this table, you'll find backlinks, a domain score, estimated visits, and a total number of social shares.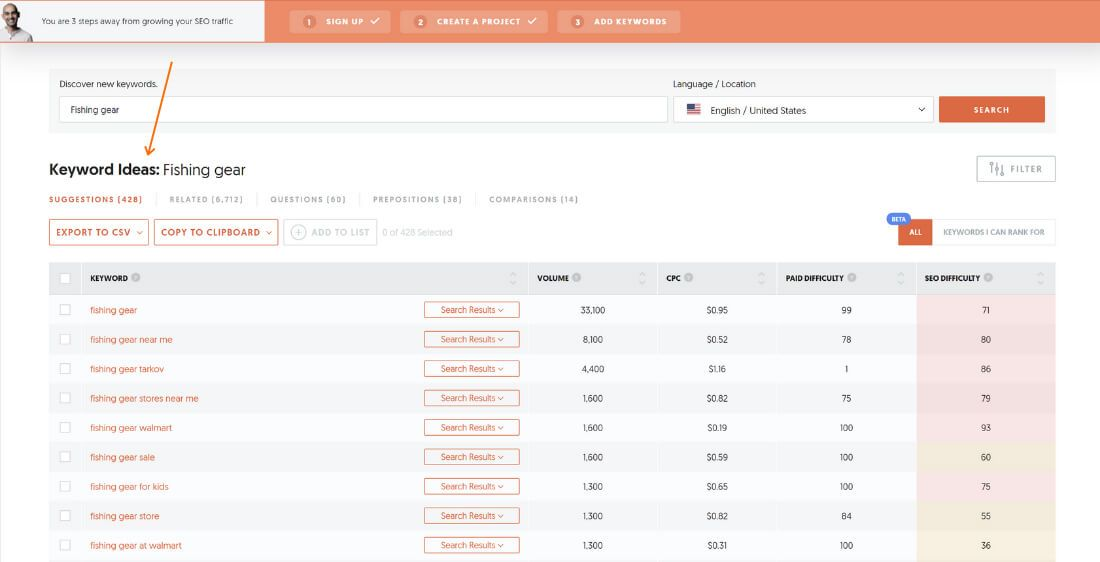 Under ''Content Ideas,'' you'll find content related to your keyword. You can see the estimated monthly visits and number of shares on Facebook or Pinterest.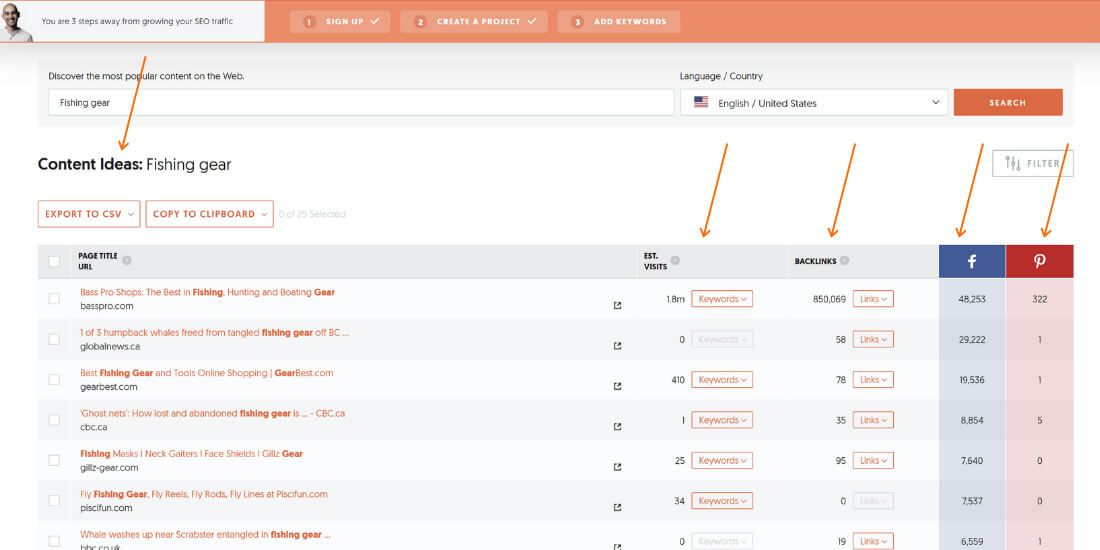 Pretty cool, right? Let's check out the pricing.
Free trial: 7 days free trial with a credit card sign-up. You can cancel at any time throughout the trial to avoid being charged.

Individual: $29 per month

Business: $49 per month

Enterprise/Agency: $99 per month
For more details on Ubersuggest pricing, click here!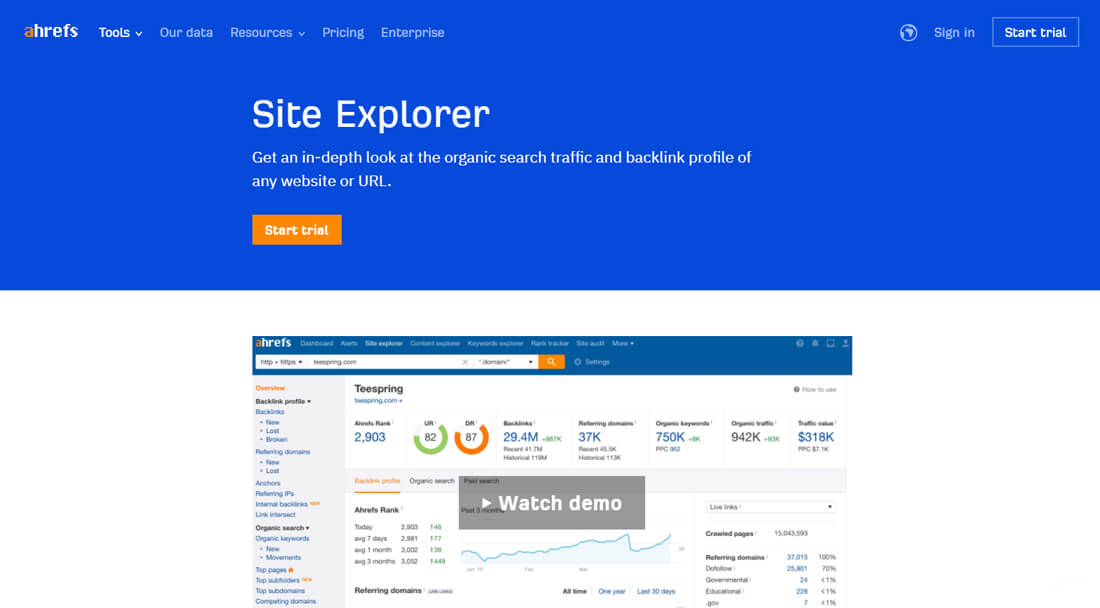 At number five, we have Ahrefs. This is one of the best keyword research tools, and is very similar to SEMrush in its features. But, it is even more expensive. With Ahrefs SEO keyword tool, you're able to come up with ideas by simply typing your keyword into the search box. Ahrefs will generate a bunch of ideas, not unlike other keyword research tools.
However, there's one thing about Ahrefs that really stands out. It's the question vs regular keywords. This useful feature helps you find matching terms. They can be questions that people would search for on Google. Or, you can generate regular keywords.
Check out the examples below:
All keywords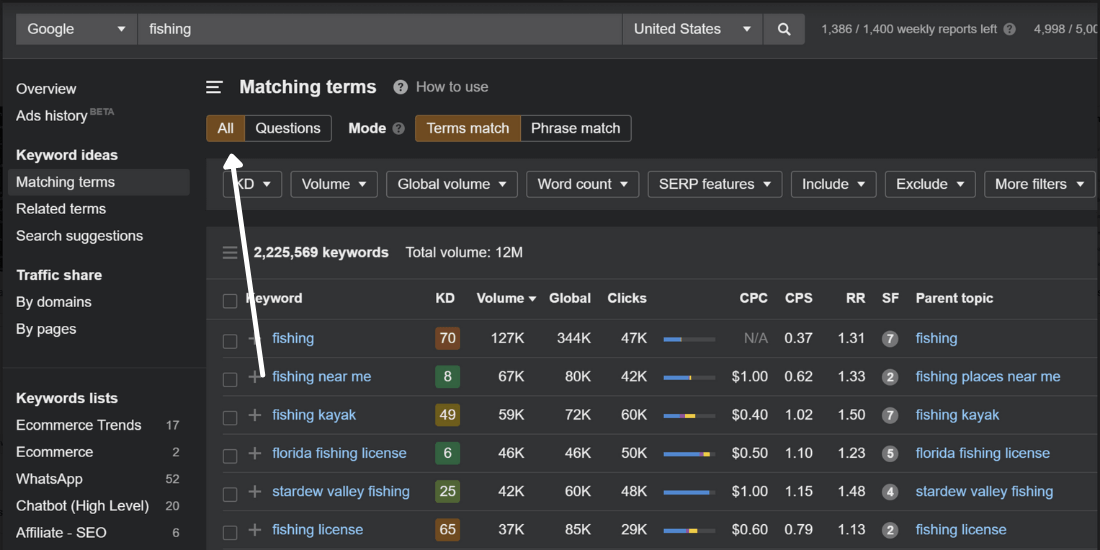 Keywords phrased as questions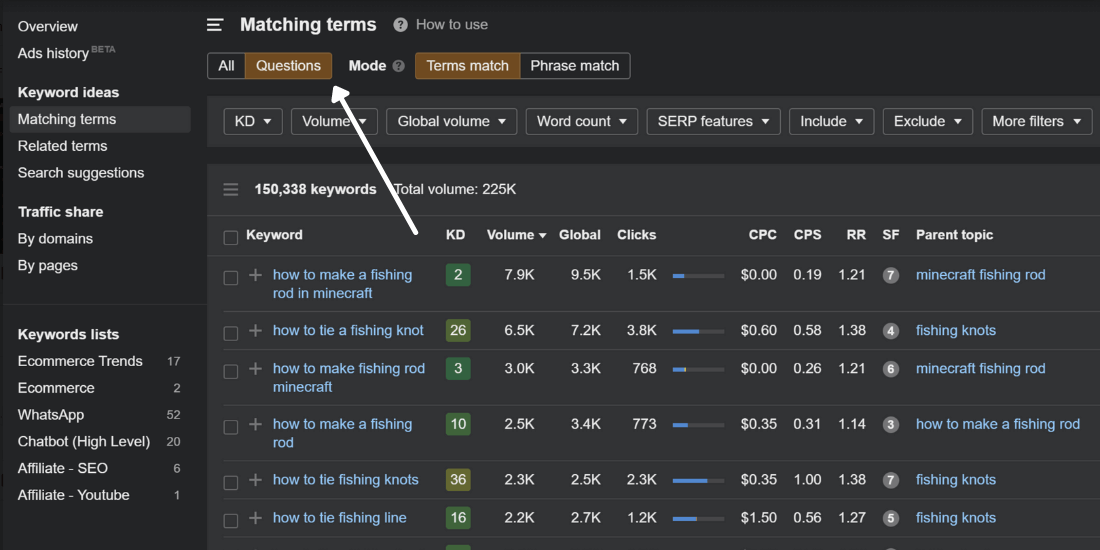 In both examples, the keyword generated results come with:
Keyword difficulty

Average monthly search volume

Global search volume

Clicks

CPC (cost per click)

CPS (cost per sale)

RR (return rate)

Parent topic
Like many best keyword tools, Ahrefs also allows you to see keywords that your competitors rank for. By using their keyword analysis, you're able to match and target the exact keywords.
It's clear that SEMrush and Ahrefs offer many other helpful tools. For instance, like finding broken link reports, and PPC keywords for Adwords. But nobody does it better than Seodity.
Ahrefs Pricing
Trial for $7: for 1 week, but it can only be activated on the Lite and Standard subscription.

Lite: $99 per month

Standard: $179 per month

Advanced: $399 per month

Agency: $999 per month
For more information on Ahrefs pricing, click here!
Google keyword research tool (Google Keyword Planner) is great! If you are looking for the very best free keyword search tools, make sure to add it to your toolbox. Although it was originally built for advertisers who run ads on Google, it's also a useful tool for building organic SEO.
To gain access, you'll need to sign up for a Google Ads account. While it is completely free, you will need to enter your payment details. However, you won't be charged for anything as you don't have to run any active campaigns.
Once you're in, follow the very simple steps outlined below:
Click on discover new keywords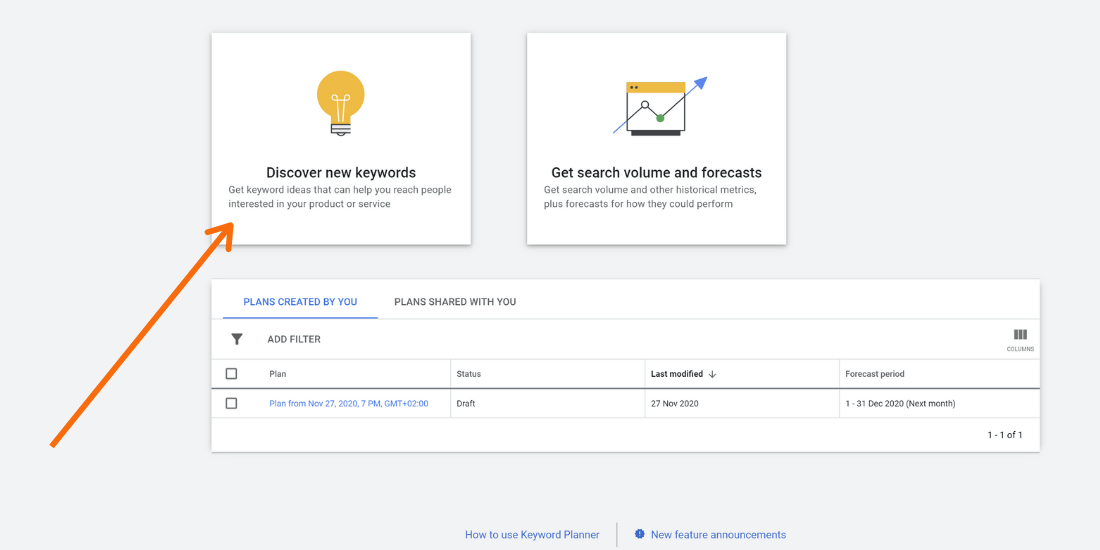 Choose your target location, and add your keywords. When done, hit ''get results''.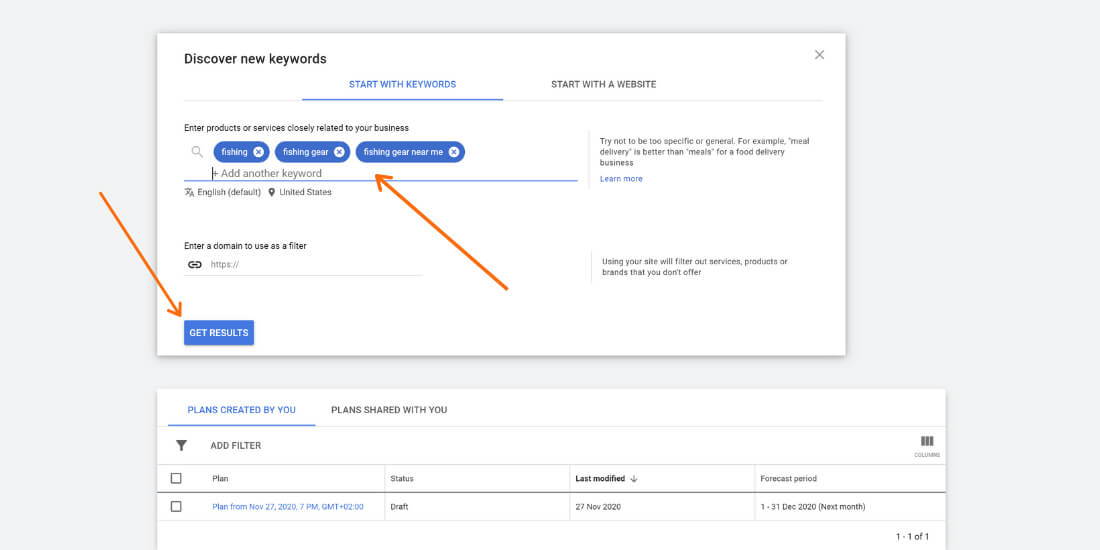 Voila! You'll find the keywords initially provided. And, with them, the average monthly search volume and competition. Also, you'll get a bunch of keyword ideas in case you need any extra inspiration.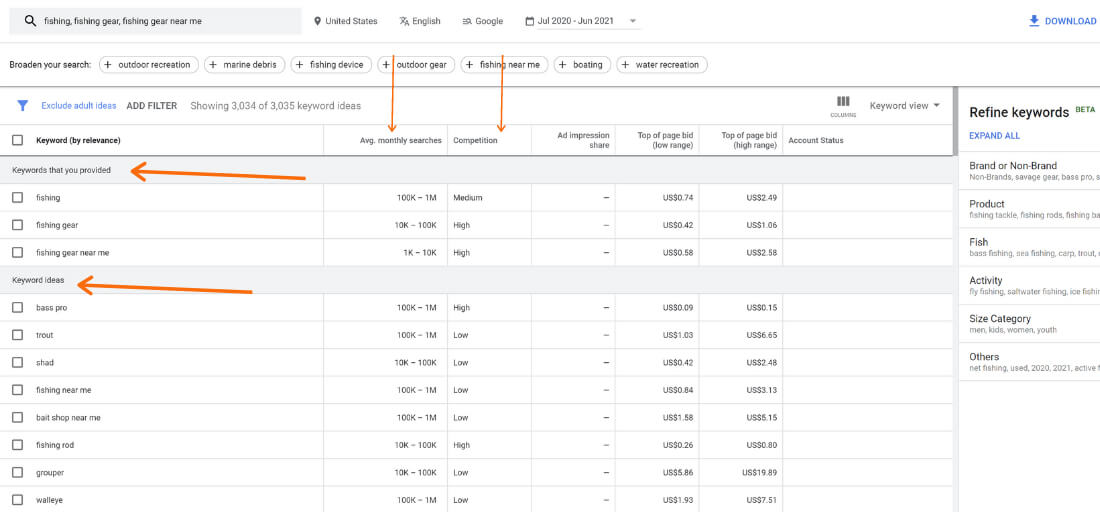 Don't be put off by the simplicity of it all. The free Google keyword tool is fantastic. It's one of the most precise sources of keyword data currently available in today's market. This is because the data you're receiving comes right from Google itself.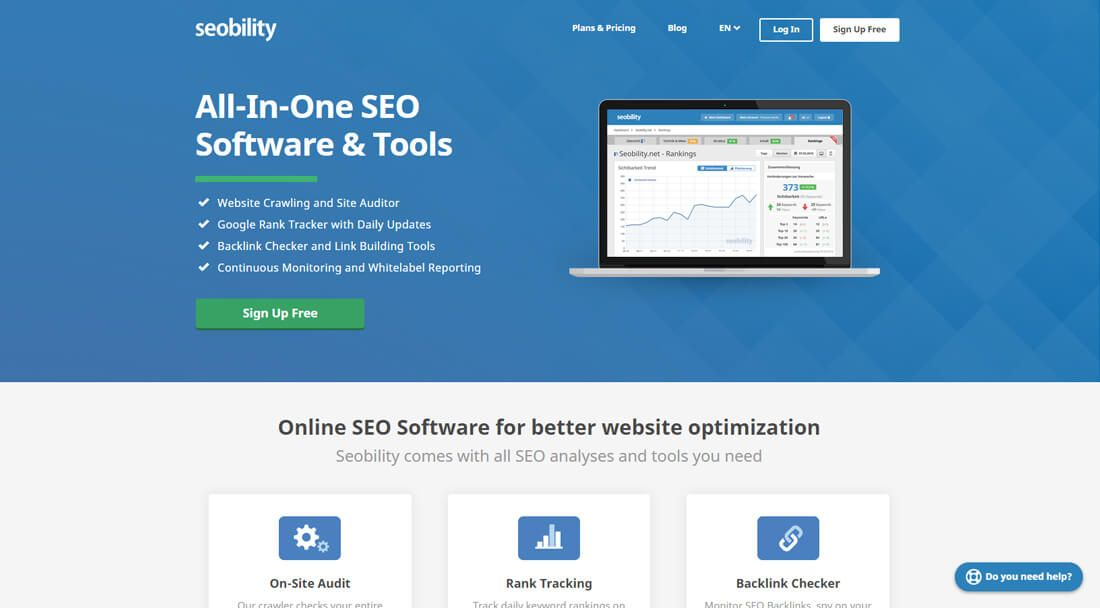 Seobility is one of the easiest tools for keyword research in the industry. While SEO professionals often state that results aren't always impressive, they are not the target audience. If you're just starting out or you're a small business, Seobility could be great for you right now.
This is among the best SEO keyword analysis tools for beginners because the software is designed with a clear focus on ease of use. But the most impressive aspect? Well, it has to be the competitor gap and competitor intersection.
Let's take a closer look:
Here, you'll click on competitor analysis and insert your domain. Then, input your competitors in both domains A and B. Choose your search engine, and hit the keyword research button.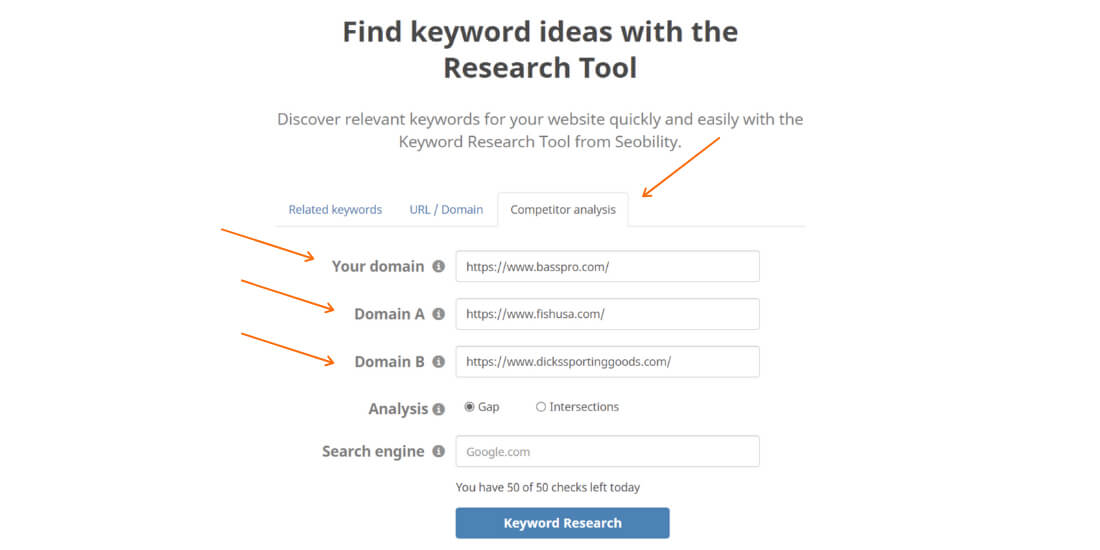 In this section, you'll find all of the keywords that your competitors are ranking for. The competition will show you how strong their keywords are.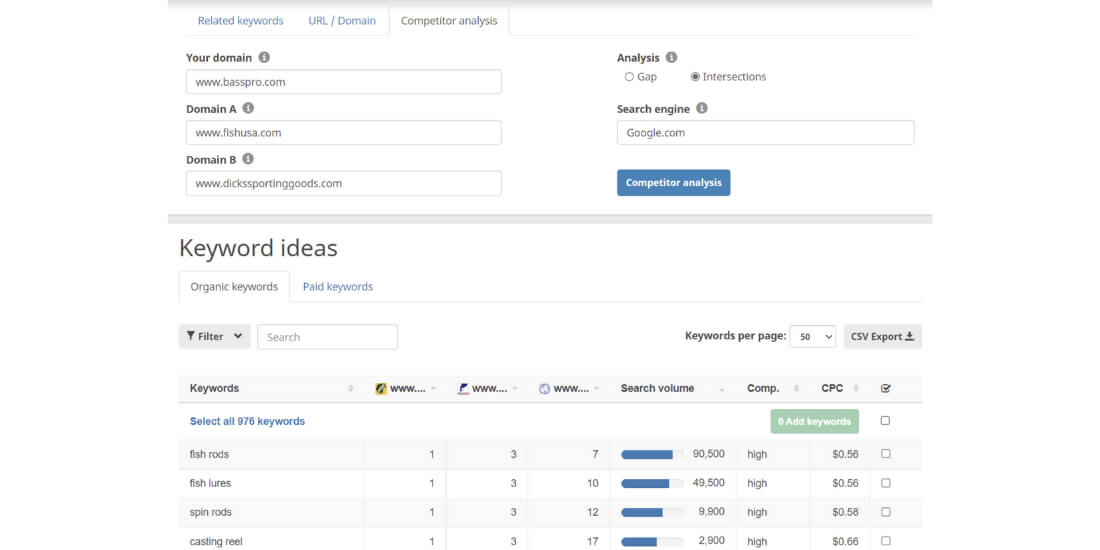 In Seobility, you can also source organic keywords, or paid keywords. Results for both will include average monthly search volume, competition, and cost per click. In addition, you also get a view of how many times they have used each keyword under their URL.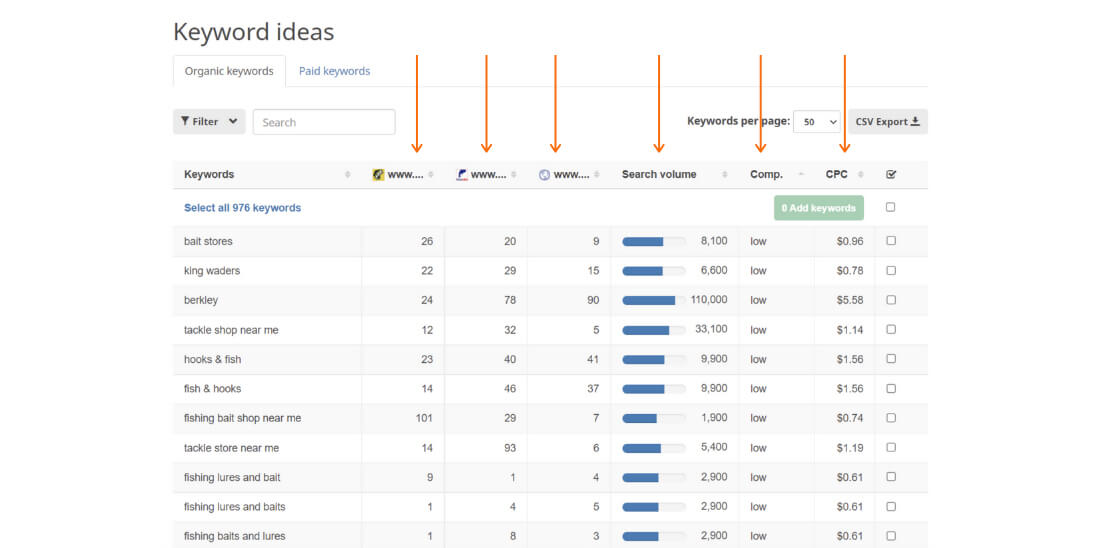 Seobility Pricing
Free trial: A free trial is available for 30 days on the premium subscription. Credit card details must be entered.

Free: $0 per month (A free account for beginners with limitations)

Premium: $39.90 per month

Agency: $149.90 per month
For more information on Seobility pricing and packages, click here!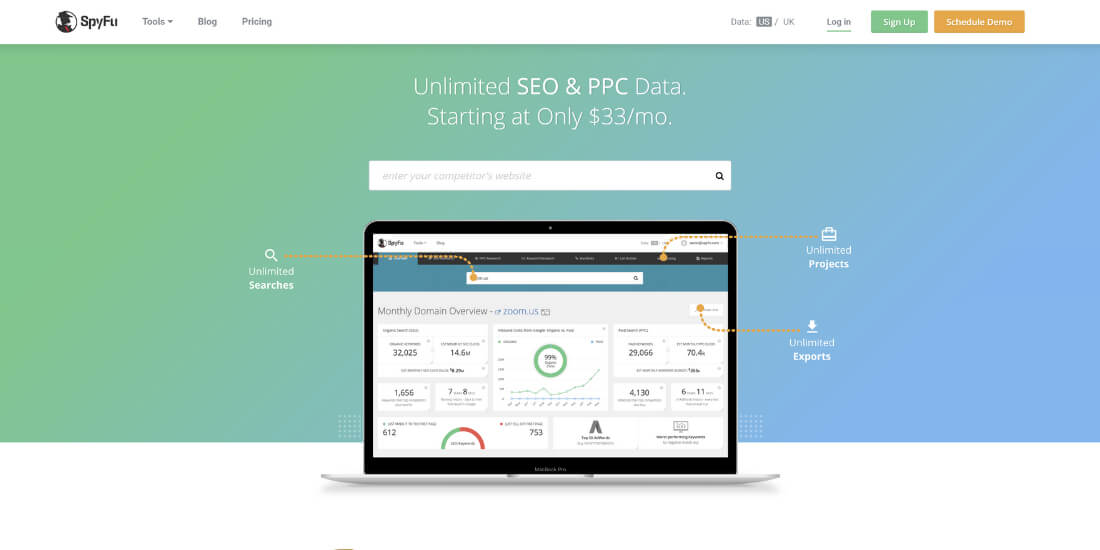 Last, but definitely not least, we have SpyFu. This keyword research software was originally developed solely as a tool for organic and paid keyword research. However, since then, they have evolved.
Now, SpyFu is an intelligent platform that provides a wide range of features. This includes search data, rank tracking, and backlink analysis. It's also one of the best choices when it comes to analyzing competitors.
Inside the platform, you can dig into your competitor's most profitable keywords. With this information, you can stay one step ahead of the game.
Here's how to do it:
Head over to the SEO overview page, and enter your competitor's website URL. Once done, you should see a dashboard like this. There's a lot of great useful information on this page that you can use to learn about your competitor. Things like:
How many page 1 keywords they have

Their estimated monthly clicks

Keywords gainers and losers

Organic keywords
But that's not all.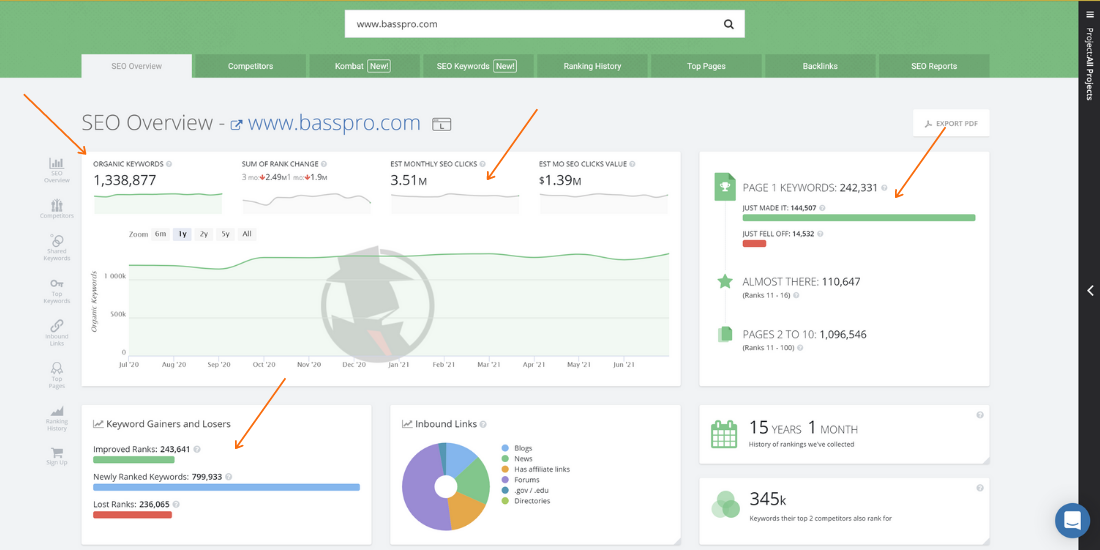 You can also see their top organic competitors.

Shared organic keywords.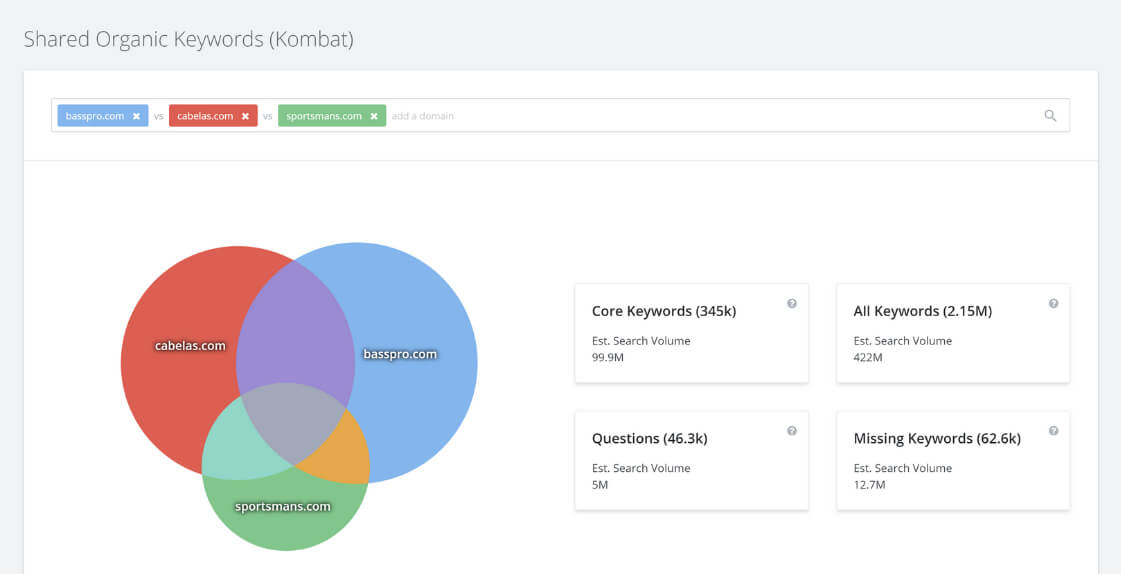 And the moment we've all been waiting for—their most valuable keywords! Also, you get a great view of their newly ranked keywords, keyword click gains, and keyword click losses!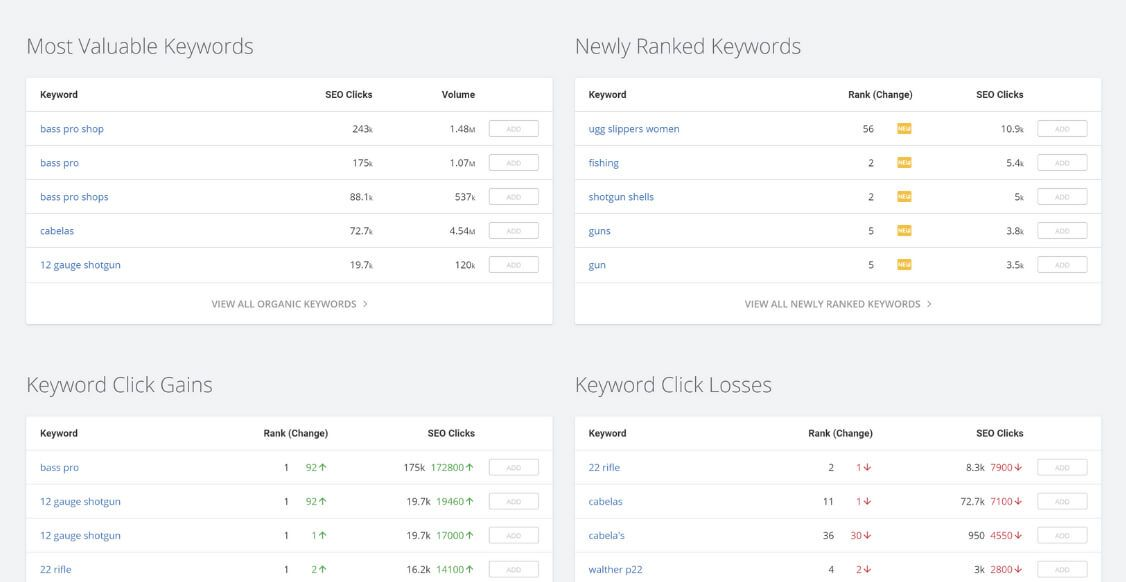 With all this information promptly available within a click of a button, your SEO strategy will be stronger than ever.
SpyFu Pricing
Free trial: No free trial available
Basic: $39 per month
Premium: $79 per month
Team: $299 per month
For more information on SpyFu pricing and packages, click here!
So, there you have it—8 of the very best keyword research tools available in today's content marketing world. To conclude, let's check out which keyword search tools are perfect for your business.
Seodity is truly the best all-rounder. Although there are many great runner-ups, this platform has evolved. It has now reached something far beyond just providing fantastic keyword research results. Seodity is clearly a forward-thinking organization. Its broad range of features allows any business to stay on top of its game. It's a great tool to use, whether you're an SEO beginner, or you've been in the industry for several years.
The free version of Ubersuggest may be limited, but it is still a mighty app. This platform has unfolded at a fast pace. It's now a fully-fledged SEO tool that provides you with all the data you need to succeed. 3 daily searches at a time.
For those who are on the lookout for question-based SEO keywords, Ahrefs is perfect. All you have to do is type a keyword, and let Ahrefs work its magic. It will bring up a huge list of related questions people tend to ask online. Feel free to use any of them to grow your business!
Best for unexpected discoveries: Soovle
If you're ever stuck on coming up with ideas for keywords, Soovle is the answer. With the awesome drag and drop feature and easy export, you'll never be at a loss again.
Best keyword finder for beginners: Seobility
Since this SEO keyword tool is so easy to use, it's a great option for SEO beginners. The Seobility platform is user-friendly and offers some cool features like TF*IDF analysis. It could be a great way to jump into the world of SEO.
Best for SEO veterans: SEMrush
Although using SEMrush does come at a costly price, it's worth it if you're looking for a world of data. Its paid features will make the life of a professional content marketer so much easier. Whether you're looking for organic or paid search, SEMrush is a good option.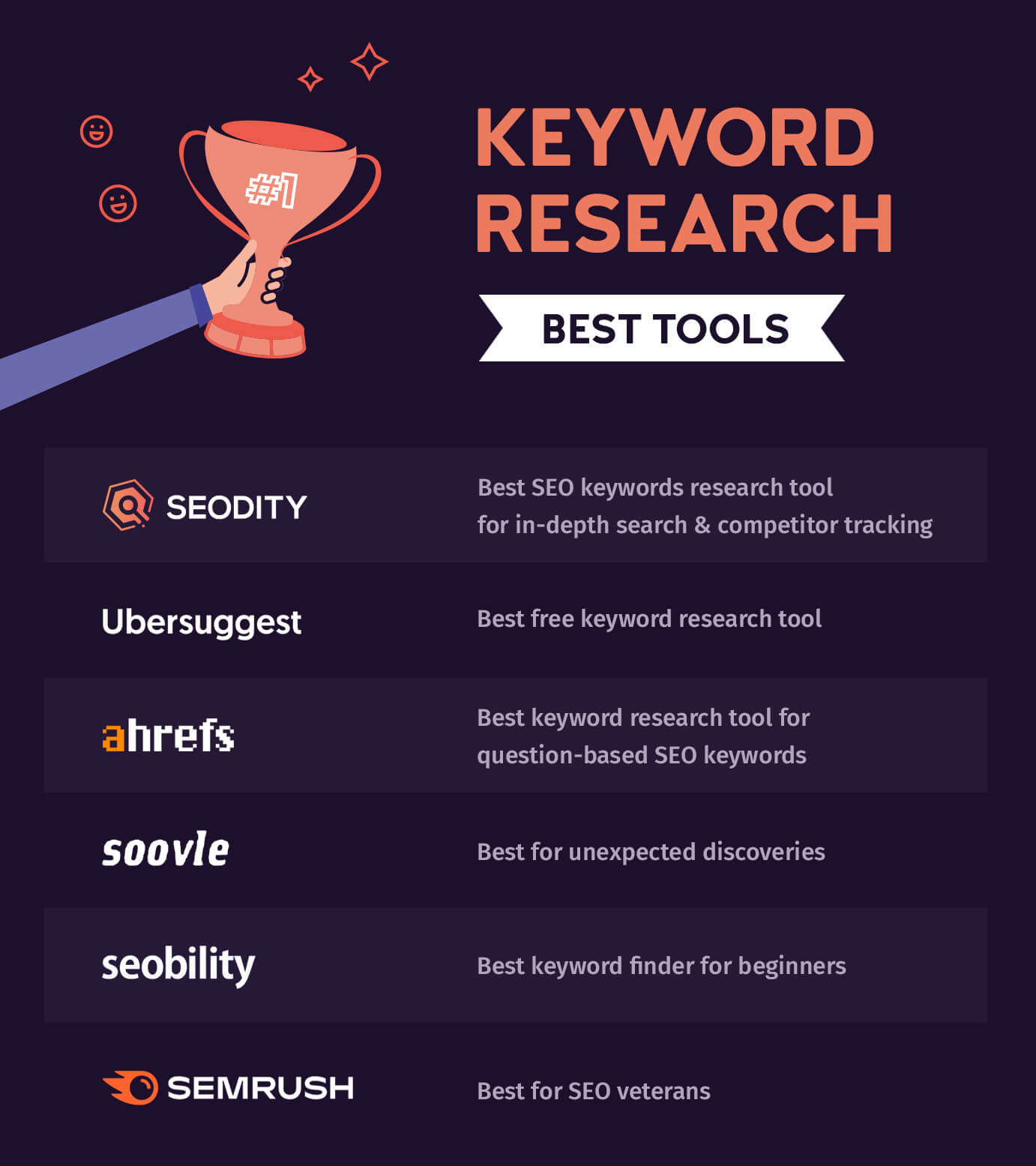 We hope this covers all you need to know about the best keyword research tools out there. But now, we've spoken enough. We'd like to hear your take on it.
Is there anything that we missed? Do you have any questions about our SEO keyword tool? Do you have any questions about the tools that we reviewed?
Whatever you have on your mind, leave a comment or get in touch with our experts—we're more than happy to help.